Post by Charlie on Nov 10, 2009 20:21:35 GMT -5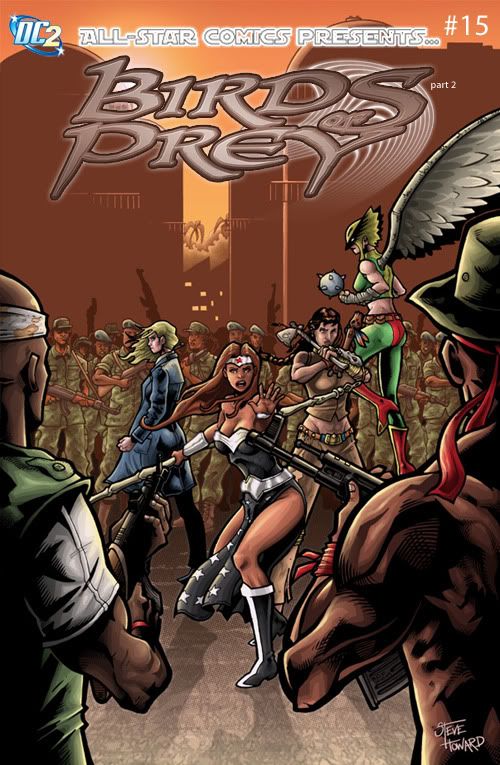 All-Star Comics #15
presents the
Birds of
Prey!
Part Two: "
Prepared Variations
"
Written by Samantha Chapman
and Don Walsh
Cover by Steve Howard
Edited by Charlie Wilkins
The three women stepped from the chartered jet, down the steps onto the tarmac where they were greeted by a number of soldiers wearing the uniforms of the Niger army. They were tense, stood in a semi-circle at some distance from the foot of the ramp, and all clutched their rifles anxiously. No less anxious were Jonni Thunder, Hawkgirl and Manitou Dawn as they slowly moved from their craft, wary and alert.
"Salutations. Je te souhaite la bienvenue à la République du Niger," announced an officer who stepped out from the soldiers and offered a salute. "I am Major Nasir Danlami, an officer in Niger Armed Forces."*
*translated from French
"Hello, my name is Jonni Thunder, these are my companions, Hawkgirl and Manitou Dawn," the blond woman answered in an easy-going tone. She quickly added, "You might recognize them as members of the Justice League?"*
"Indeed, even here we get news of the American super-heroes," Major Danlami answered with a smile. He held his hand out in greetings. "I must ask your business here. It is highly unusual to allow anyone into the borders of our country without papers, never mind in masks. Especially in a time of turmoil."*
"Are you understanding any of this?" Dawn asked in a whisper, her head leaned in close to Hawkgirl.
"A little," Kendra admitted. "I have a basic grasp of French, but not conversational, and certainly not with Nigerien changes. Good thing Jonni does, huh?"
"Yeah. Good thing."
"There is turmoil in the south, in this area, that brings us here," Jonni replied as she shook his hand and stepped up closer. "I know you have the Tuareg rebellion to the northeast, but there is new difficulties down here, near the airport, around Lake Chad, right?"*
"And what if there is?" Danlami asked warily, eyes roaming over the three women. Kendra could tell it was more than any skin-tight, provocative costuming; this was a man who was judging the combat readiness of the women, compared to his men. She was liking the way his face kept up the facile smile and his hands remained away from his own sidearm. "What makes this a matter for foreign super-heroes?"*
"We think it's an external influence, and one that's dealing with something...outside the norm. Things people like the League deal with on a more regular basis," Jonni said, her voice matter-of-fact, her arms folded over her chest now as she asserted herself more strongly. Talking was good, more talking put the ball in her court. "We're here to shut down anything like that."*
"It's true, we're facing some militants down in the area, but our intelligence reports seem to think that there's a bigger player behind them," the major answered with a nod. He couldn't help but notice the carved wooden bird fetish the blond woman wore to hold a kerchief around her neck. The cloth was smart in this desert heat, but the fetish implied also a spirituality. This wasn't a cheap, mass-produced consumer product. He could make out the age of the device, and it was worn in a prominent way. Similar to the markings on the black-haired woman in the back of the group. What she wore, what she bore, she was clearly a shaman. And the third woman, she bore the most magnificent harness of wings. There seemed an animistic feel about their presence, and while he was devoutly Islamic, the way they stood made him consider their words with great care. "These rebels have firepower we can't match, and as yet, we've not gotten our hands on. Energy weapons the equal of anything seen in your 'First World' countries. While we haven't a clue who builds them, our sources indicate a base to the south and east of here where they are at least distributed, if not outright built. We just don't have the forces to push through the contested region to uncover the truth."*
"That would be who we're here for then, I bet," Jonni said. "We've got reasons to believe an anarchist group is behind all this, which would make sense, arming dissidents on the opposite side of your country from the current struggle, break you in two, provide a place to launch more critical moves on places like Nigeria."*
"I believe we can permit you to investigate and deal with this then," Danlami said with a nod. "I will clear it with my superiors, while my sergeant supplies you with the nearest coordinates for this mystery base."*
"Is it possible we could get a transport? Only one of us flies, Dawn and myself, we're strictly walkers."* Jonni chuckled as she waved her two friends over closer and turned to the sergeant, already pulling out his map.
"I think we can loan you a jeep for the duration," Danlami replied. "Good luck, Ms. Thunder. Good luck to all of you."*
The major stepped back from the trio and found his way to his own vehicle. "Diffa-1 to Command, Diffa-1 to Command. Come in, Command."*
"Command here, Major. Report on the situation,"* the radio crackled in response.
"As we hoped, American metahumans with intentions of going after SPIDER," Danlami responded. "I believe them and their mission."*
"Excellent. You have your men in place?"*
"I do, sir. Give the word, and a squad of my best commandos will be sent to trail them to the weapons plant."*
"Word is given, Major. We'll leak the coordinates through our sources, and get the rebels turning on this organization. With the heroes, we should be able to seize the facility. You understand your orders?"*
"I do, sir. Major Danlami, over and out."* The officer slipped the handset back into place and ordered his driver to head back to command, as he watched the jeep with the three women roll out onto a dusty road. He was unaware of the tiny transmitter secreted into the bottom of his radio as he watched the vehicle get smaller against the horizon.
On the receiving end of the illicit transmission, a man in a green jumpsuit looked up from his station in the large vaulted chamber. "They're all on their way, Mortalla."
An albino woman in sleek green and black grinned at the words. She toyed with a stray lock of silver hair as her pink eyes darted from station to station, at the heart of this facility. "Excellent. What better way to make a name for ourselves, people, then stringing up three super-heroes for display. We'll teach them not to mess with SPIDER!"
* * * * *
The rest of them were busy as usual, hard at work carrying out the commands of their leaders, and Gabrielle felt a knot in the pit of her stomach as she disobeyed. But SPIDER had so many people all set to gathering diamonds and making weapons, she couldn't imagine she'd be missed, not for the few minutes it took to get her information.
"Are you stupid? Do you want to have to explain to Commander Breil why I can't get through for his orders?" She had berated the guard on patrol in front of the weapons base. Everything that she'd done, Gabrielle had planned meticulously, and she knew that this guard was a relative newcomer. He had a more experienced partner on his patrol, but even the best of guards had to go to the bathroom sometimes. She took her chance when she got it, and barreled her way past the amateur guard, caring more that she was in the base at all than that he kept his mouth shut when his partner returned.
Somewhere in her mind, Gabrielle knew that she was downplaying the risk. Mortalla had never taken kindly to traitors, to those who went behind her back and against their organization. Just by looking for these coordinates, Gabrielle was saying that she didn't trust her leaders to know what was best, that she thought she was better than them. And if Mortalla found that out, it would be up to Gabrielle to prove that she deserved the information she had stolen. In the anarchist world, might made right; she would have to fight her own supervisors, and if she lost, she would die.
Right now, though, the thought barely mattered. No one was here, and she only needed a moment. Her computer skills were what had gotten her noticed by SPIDER in the first place, although she'd tried to downplay them since she'd arrived at the compound. It always helped to have an ace in the hole.
The office was open. Gabrielle had timed her strike well, knowing that the base leader had been called away to the diamond fields. It was her luck that the lock had been left off, but it also meant that she had that much less time to work. Gabrielle nodded to herself and slipped inside.
"Come on…there's got to be something," she muttered, her long, dark fingers dancing over the keyboard. Files upon files popped up before her eyes, overwhelming Gabrielle with the volume of useless information. "I just need the diamonds….they must have something about the diamonds…"
The computer beeped, and Gabrielle hastily turned the sound off, cursing herself as she continued to search. She couldn't get lazy, she couldn't get stupid, she couldn't get caught. But she had to keep looking.
Something more than pure curiosity kept Gabrielle going. A dim part of her mind urged her onward in her search, told her that this was important for her to know. This was part of her destiny. She didn't know why, but of that she was certain.
"There!" She strangled her cry of success, and clicked on the folder when she finally found it, all too aware of the time trickling away from her. The same news articles she had up in her barrack were filed away inside, along with details that no news source had gotten its hands on yet. There was a bigger picture of whatever the crashed object was, showing the steam coming away from it, the crack down the middle of the hull. To Gabrielle's dismay, she couldn't find anything written about the diamonds, about what their strange power was, not even in the locked files that she hacked into. But the coordinates of the crash site were hidden away in a document full of irrelevant information. She grabbed a pen off of the desk and scratched the numbers onto her skin, just hoping for the chance to make use of them.
"Hey! What do you think you're doing?"
Gabrielle looked up, to see the guard she'd passed by before, not only led to the office by his fuming partner, but by two more guards as well, all armed. She swallowed and clenched her teeth. It might take more than luck to get past this.
* * * * *
"Well, there it is, just like we were told," Jonni said with more than a little sarcasm in voice. She stood up at the driver's seat and leaned on the top rim of the windshield, staring out from the low broken rise she'd perched the vehicle on. "Thoughts?"
"Seems plain enough," Dawn said as she stood next to the jeep, stretched her legs as she looked over the low valley and the bunker-like building that sat within it. "Not very big, is it? Just four concrete walls and a ceiling. The guard towers posted up at the cardinal points around it, not even a chain-link fence connecting them." She seemed unimpressed as she rattled off the obvious.
"Yeah, I have to say, I've seen better homes for evil organizations," Kendra chuckled as she landed next to Jonni. "Though there is something missing that sticks out like a sore thumb."
"Nothing to indicate manufacturing?" Jonni asked as she glanced at Hawkgirl and saw the woman nod.
"That'd be it. I mean, could be hidden inside, but really, unless they've dug a lot of underground space, I just don't see where they could be making the weapons, especially energy weapons," Kendra added.
"That's right." Dawn looked closer now, and wiped her forehead, cautious not to smear the face paint. "I'd think energy weapons would mean radioactives and the like, right?"
"Right, and ways to vent and contain the waste," Hawkgirl confirmed. "Like I said, they could be hiding it, but for some reason, that just doesn't look like the case here."
Jonni narrowed her eyes, her brow furrowed in concentration. "Well, one way or the other, answers are going to be in there, so we start there. Is the army still following us, Hawkgirl?"
"Yup. They're good, I had to get pretty high up to pick them out, but they're there."
"They want the weaponry." Dawn scowled at the thought.
"No. They want
how
to make the weapons. Like better ways to commit genocide will help the continent out," Kendra growled and punched her hand into her other palm.
"Maybe, but I'm betting that the fact that the soldiers are behind us is a big part of why the rebels haven't tried to stop us either, so for now, we play along as unsuspecting dupes," Jonni suggested. "Until we have a better grip on the situation."
"Who wants to tell her?" Hawkgirl asked as she pointed to the far side of the basin. There, a single figure raced toward the building, a trail of dust in her wake. "She almost looks like Wonder Woman...kind of...in negative, maybe."
"Wanna go and check in on her, while Dawn and I follow after?" Jonni asked as she hopped out of the jeep and tugged at the hem of her shirt, straightening out the material. She watched Hawkgirl soar high into the air and head for the far side, then turned to look at Dawn. "Thoughts?"
"If that's not Wonder Woman, Hawk is going to flip her nut," Dawn said as the pair started out, carefully sliding down the rocky slope. "She and Queen Diana bonded quite strongly in the League, she's not going to take too well to an impostor."
When they reached the floor of the channel, Jonni and Dawn moved as quickly as they could, tried to be as stealthy and hidden as they could from the guard posts of the strange base, their focus split on the building and the point on the far ridge where Hawkgirl was soon to meet the other woman.
"Okay, lady, who do you think you are?" Kendra called out as she landed in front of the incoming Zenobia.
The Amazon kicked up dirt and rock as she came to a sudden stop, and stared at Hawkgirl. "I
know
who I am. I am Zenobia, a Wonder Woman and champion of the Amazons," she declared in her hard voice, and she pointed her spear at Kendra. "And I recognize you, so step aside and let me continue my mission!"
"I've heard your name," Hawkgirl said as she pulled her mace from her belt. "You were a poor Wonder Woman, and for you to try and claim that mantle now is an insult to Diana and those close to her!"
Zenobia's face contorted in fury, the spear tip trembled as she clutched the weapon so tightly. "You...dare?"
"You kidding me? I'm Hawkgirl, I dare a lot of things. You'd know that if you were who you said you were. I know Wonder Woman, and what she's done for me, and there's no way I'm buying you as Wonder Woman."
Zenobia gripped her spear in both hands and took a hard step forward. Her vision framed in red as she felt the anger boil in her blood, but something tickled at the back of her mind. "You're so quick to take offense at my words, titles I've earned through hard-fought battles, that you'd keep me from a mission of justice?"
Kendra hefted the mace and prepared to fly up from the weapon strike she was sure was about to strike like a viper. Her eyes focused on Zenobia's eyes, warriors locked in that particular stare-down; so intent, she at first didn't hear the Amazon's words. "What?"
"The jackals who lurk in the shadows, spinning their webs, and working to turn a land of turmoil into an even worse grist mill of blood," Zenobia declared as she let go with one hand and dipped her spear tip. "I'm here to dispatch these scavengers of misery, and destroy their weapons. What are you here for, Hawkgirl?"
"Yeah. That's it. SPIDER, and whatever they're up to, but it's just..." Kendra felt a flush in her cheeks as she dropped the weapon hand to her side. "Aren't you supposed to be more of a mad dog than this?"
"I'm unreasonable, by the standards of many," Zenobia answered sharply as she stalked past Hawkgirl and marched to the edge of the ridge. "But I'm not stupid. I'm a warrior. I do not waste strength and time on foolish battles." She paused as she stared down at the blister of concrete that pocked the basin. "Not anymore," she whispered softly, but Hawkgirl heard.
"Sorry I misjudged you. Me and my friends are here for the same reason. Trying to shut down SPIDER, and get the plans for these weapons away from the wrong people," Kendra confirmed as she warily stepped up next to the Amazon.
"Your friends are not so good at sneaking as to get across a large dried river bed with no cover as they might hope," Zenobia said as she used the spear to point to Jonni and Dawn, who were engaged with a quartet of SPIDER minions. "I assume they were meant to get here and back you up when I proved to be as...'bitchy' as you expected?" Hawkgirl glanced away embarrassed and Zenobia snorted. "Come! The true enemy awaits, and after that, we can sort out our differences." With that, Zenobia hurtled into the air, unleashing a war cry that echoed across the channel. She landed on the roof of the building, bringing herself down with force, her feet cracking the reinforced material.
Hawkgirl said nothing, and instead streaked up into the sky and raced for the rear guard posts. There was no reason to hold back, surprise had been lost, even before Zenobia's advance. Somehow, the base knew they were coming, and only Zenobia's appearance might turn the tables. "Better be all you say you are, lady."
* * * * *
Something big was going on outside, but Gabrielle couldn't focus her attention on whatever was happening. Right now, she was too close to too much personal danger. She still stood behind the desk of the base leader's office, arms raised just barely above her head to show herself unarmed, and helpless. At the door were four of SPIDER's more vicious security guards. Any one of them would be thrilled to take Gabrielle down right there for her violation of their rules. It was too much of a risk to speak out loud, but in her mind, she mulled over the irony of the anarchists' strictness. Her eyes kept darting to the inside of her arm as she held them up, the crash-site coordinates written there enough to damn her if anyone else saw before she could escape.
It was another stroke of luck when the alarms inside began to blare; another signal to Gabrielle that somehow, fate was looking out for her. The guards kept their weapons trained on her, but their eyes and attention wandered. All five of them could hear the commotion outside, still young enough that none knew what was going on.
Gabrielle knew one thing the alarms meant, though. They meant her chance.
She wasted no time before leaping up over the desk, thanking her gangly teenaged body for being small enough to fit in the gap between the guards. She sped past them in that moment of distraction, drawing her own gun from her hip, though she didn't want to take the time to use it. The guards were shouting behind her, a cacophony of meaningless noise under the alarms. Gabrielle heard the click of a trigger and threw herself into a roll on the hallway floor. All she needed to do was keep up the momentum…
There was only a small pang in her heart as Gabrielle realized her chance with SPIDER was over. She was still young, there had still been so much time for her to prove herself, to spread the glory of anarchy all through the continent, everything she'd been told for so long that she wanted. But the coordinates seemed to burn themselves into her arm, the simple ink feeling like a burning brand, glowing with importance. For that one spot, Gabrielle had given up her dreams.
She felt safer when she rounded a corner, knowing that she was close to where she needed to be, and that there were many twists and turns through the base that she might have lost the guards in. She hadn't even looked back, after that first shot. All that mattered was getting to the hanger, and she pushed the doors open with adrenaline ringing in her ears.
Whatever attack was taking place had taken most of the vehicles, and attendants, out into the battlefield. For a moment, Gabrielle despaired, glancing behind herself and seeing dark, shapeless figures running toward her through the distorted glass on the hanger window. But as she whirled her head back around, she spotted it. The car was old, slow and broken, waiting the repairs that would allow it to run more than one trip without dying. But it had armor and wheels, and it would get her far enough. That was all Gabrielle needed.
She leapt inside, just as the door slammed back open behind her. "Stop! Traitor! Stop her!" the leading guard shouted, but no one but his own men were there to hear. His gunfire glanced off the armored casing, as Gabrielle's slim fingers twisted and manipulated the circuitry inside. Within moments, the engine blared to reluctant life.
"Get out of my way!" She shouted, and pushed her foot down on the pedal, sending the car careening forward. The younger guards obeyed their instincts. The cruelest kept his eyes narrowed on the girl, holding his gun up in front of his face. He only had a few seconds to get the shot off, standing directly in her path. Gabrielle met his eyes with her own determined ones, and gave the gas another thrust.
The windshield shattered when the bullet hit, but all Gabrielle felt was the slight warmth in the headrest behind her chair where it landed. That, and the lurch of the car when its wheels passed over the thick body on the ground. She couldn't even spare a thought to wonder if the guard had survived. She was on her way.
* * * * *
All hell had broken loose at the SPIDER compound, as the four women battled their way toward the main building from their various directions. Jonni and Dawn watched the main doors open up and release a dozen or more soldiers in the olive green fatigues of the organization.
"Well, this could have gone better," Jonni grumbled as she ducked behind a small boulder and drew her revolver. "Remind me why I'm doing this super-hero stuff?"
"Because some strange guy on the other side of a computer connection suckered you into it," Manitou Dawn answered with a sly smile and then pulled out an old, carved rattle from her belt. "You really going to go around gunning people down, with what you can do?"
Jonni stared at her firearm, and then crouched low behind her feeble cover as orange beams of light lanced out and smashed into the rock. She peeked around and watched as Dawn shook the rattle and swung her extended arm in a circle as she stared down several of the troops. A howling responded, dust and small pebbles picked up by a sudden gust of wind that increased in power until it was a roaring gale that drove the enemy back under the assault.
So what do you do here, Ms. Thunder?
Jonni chided herself as she watched Hawkgirl zip among the guard posts, lashing out with taped punch, steel-shod kick or heavy-headed mace; the assault scattered the long-range SPIDER minions as she ducked and wove around their counter attack. She saw the roof crack open as the black-and-gray clad Wonder Woman dropped into the building from her own strength, and then glanced back at Dawn, who directed her wind spirit while pressing toward the entrance.
You chose to side with super-heroes. You could have run this whole operation however you wanted, that was Mockingbird's deal, and you grabbed up masked crime-fighters with codes against killing.
A distant, muffled scream of agony echoed from the main doors as they were torn open by Dawn's wind spirit and Zenobia's side-kick.
Most of them. You've got a gun. Guns kill people. So make up your mind. What are you doing here?
The wind spirit dispersed as Dawn and Zenobia fought back to back now, spear and tomahawk, fist and rattle, against more of the SPIDER troops as Hawkgirl swooped around the outside of the perimeter, doing her best to winnow the ranks for her friend and her reluctant ally.
The blunt rear of Dawn's tomahawk cracked one soldier across the temple and drove him to the ground. The heavy body landed on the pistol and cracked the fiberglass portions, and an odd sound only the shaman could hear caught her attention. She dropped to her knees as she cried out, "Hawkgirl, I need a minute!"
Kendra swooped down and stood over the woman and her victim, then growled at the troops who leveled guns in the shaman's direction. "She's gonna help one of your guys, and you're going to shoot her in the back? Oh yeah, that's a cry for dental work!" she snapped and lashed out with the heavy mace.
Dawn heard the muffled cry and reached underneath for the weapon. She saw the luminescent diamond within the cracked housing, and then heard something fluttering on the ethereal wind, a sensation she'd not felt since Kid Eternity had left. Her fingers reached in for the gem, her mind pushed the thought of
that boy
aside, and then she heard something more clearly.
The world melted away, as Dawn's mind connected with the entity trapped inside the stone. The voice rang inside her head, crying out in pain and panic, and it took all of her attention to hold the contact, to try to make sense of what she was seeing. Before she knew it, Dawn stood in her own little world, separated from the battle around her by a shimmering curtain made of swirling colors and refracted light.

"Who's here?" Dawn asked, kneeling with the diamond clutched in her hand. There was something not quite right about the spirit…if that's what it was that she was sensing. It was so small, its life-force weak, although its pain was strong.

"Help…." The voice broke off into another cry, but the word was unmistakable.

"I will," Dawn promised, and focused all of her energy on the being, knowing that her team-mates would keep her body safe in the meanwhile. Just keeping the mental connection with the spirit was giving Dawn a sense of the dread and fear she felt…at least, Dawn thought it was a she. "What's wrong?"

"Broken…" Dawn felt a surge of energy, a monumental effort on the part of the spirit, and suddenly she knew what was powering SPIDER's terrible weapons. She gasped as the images passed across her eyes and through her mind, visualizing the diamonds inside every gun, and hearing each plaintive, parted voice cry out for the same help.

"You're…they're all you," Dawn whispered, holding the diamond more closely in her fingers, feeling how hard it was, how confining. "They've split you up."

Somewhere in the real world another gun blasted, and the piece of the spirit inside the diamond flinched and cried again. The voice was high and panicked, the consciousness swirling inside her prison for a way out.

Both inside and outside of her mind, Dawn reached for her tomahawk, clutching the handle with urgent fury. She placed the diamond on the ground and swung with all of her might. The first hit did little to crack the hard surface of the stone, but Dawn let out a shout as she drew all the power that she had into her next strike. The diamond only cracked, but it was enough.

The fragmented spirit fled from the diamond, shooting up into the air and swirling all around Dawn. It was an ethereal creature, only visible as a shimmering spot in the air, even in Dawn's mindscape. It gave a happy gasp and whirled around the shaman's head, showering her with the relief and calm that this one fragment felt. But Dawn kept her focus, connecting her mind through the fragment to try to find the complete being, searching for miles. All around her, more trapped fragments cried, and finally Dawn saw the ship.

"That's where you are," she murmured. She was miles away from her own body now, her consciousness traveling fast to find out what she could. Despite Kendra's protection, a blast whizzed past her hair, and Dawn knew she didn't have the time to find out what she needed to know.

She only had a glimpse of the creature inside the ship, but somewhere in the swirling crystalline shape, she caught its eyes. "I'll help you! We're going to get you out!" she cried, and felt the creature smile, before she fled back into her own body, hitting the ground hard.
Jonni leveled her revolver and fired off several times from her cover, now having made her choice. She was glad for all the hours and hours at the firing range her father had forced out of her, as she landed several expert shots into the lower legs or knees of some of the SPIDER troops. She holstered her firearm and dashed toward one of the mercenaries she'd downed, grabbed up his rifle and used the butt for a makeshift club. She wasn't too disturbed by the limited effort she made with such an attack; she saw how outclassed she was in melee combat by the woman she would come to call Zenobia, and her own partner Hawkgirl (it was why she'd selected her, after all). Her own talents were as an observant detective, and so it was she saw Dawn crouched low, with a diamond in one hand, a glazed look on her face, and cracking the jewel with her tomahawk.
"Look out!" Hawkgirl cried out as she bashed a trooper's arm, spoiled the shot that instead seared a hole in Jonni's silk shirtsleeve. "Keep your eyes on the prize, Jonni!" Kendra reached to give Dawn a hand as the shaman stirred, and started to stand, helping to steady her. "Easy there," she cautioned, holding Dawn's arm with one hand and swinging her mace with the other. "You ready to get back in here?"
The tomahawk swung down on another attacker, Dawn's fingers clutching the hilt tightly. Her eyes narrowed in anger as she looked around the battlefield, seeing all of the energy weapons, knowing now what was at stake. "Yes. Yes I am."
"I am! Trust me!" Jonni replied with a grin as she kicked another soldier between his legs, all the time focusing her green eyes on the diamond as it cracked enough for a slip of...light? to dash into the sky. "That was beautiful...strange...what the hell was that?"
"Our goal," Dawn declared as she spun around to bring the back of her weapon into another soldier's jaw. Even Kendra blanched a bit at the look in Dawn's eyes, but didn't show it. The ranks were thinning slowly, and with Zenobia's speed to move her around and help to block most of the energy attacks with those bracers of hers, the heroines had avoided serious injury.
"We're nearly there, just a few more!" Hawkgirl declared as she lifted back up into the sky now that Dawn was active again. "Oh damn!"
Everyone, even the SPIDER troops, turned to look up at the ridge, and see the Nigerien troops taking position and aiming down on the battlefield below. "Drop your weapons, surrender, and we will not fire!"* an officer called down from his bullhorn as a tense moment seized the area.
"They're not the only ones," Hawkgirl told her allies as the four women gathered together, and glared up at the army presence. "I saw other figures down the channel, all done up in camouflage, and trying to be stealthy."
"The rebels, I would wager," Zenobia growled bitterly. "And we still have more defenses in the building to overcome, I am certain."
"Yeah, we're definitely looking outgunned on this one," Hawkgirl added with her own sour note.
"There is
no way
we are letting these weapons, or the method for making them, fall into anyone's hands," Dawn stated, eyes narrowed and face flush with anger. "No matter what."
"Okay then," Jonni said. Her heart pounded, and the soft hairs on the back of her neck, on her forearm, started to stand on end. "Dawn's got a quest now, and personally, I'm done playing sucker." She swallowed hard; she hated this moment, but she had to. She brought Kendra and Dawn here, and she was not going to let anything bad happen to them.
She hoped.
The scene played out in black and white on the small monitor set into the armrest of the command chair where Mortalla sat with a patient, predatory smile. She flipped several switches and looked at the technicians at their posts. They'd served her and the installation well, and there sacrifice would be remembered...for a while. "Ladies, gentlemen, good luck to you all, in the short time remaining," she announced to them, and blew a kiss. She pressed a button and her chair slid down into the floor.
Her minions and lackeys dashed over to the hole that had been left behind, only to have metal plates iris shut over it, and all the screens switched off their views, to be replaced by a digital countdown from fifty-nine seconds. "This is your glorious leader, Mortalla, dears, thanking you all for faithful service, and letting you all know that, yes the timers are oh-so-dramatic, but that's okay. They're only there to increase the glorious anarchy that will follow when I announce this base, and all around it for a mile, will soon be turned into melted glass. Long life to SPIDER!"
* * * * *
The aging car sputtered and kicked, no matter how hard Gabrielle tried to control it. It whined and protested, shuddering, and she kicked at the casing to try to urge it forward. She could see the site, now, see the ship, if that's what it was. The thin stream of smoke still rose from the top of the craft, and when Gabrielle bothered to look, she could see the sparkling, crackling energy that powered the diamond weapons, no clearer than a mirage, but undeniably there.
"Almost…" Gabrielle muttered to herself. The car finally sputtered to a stop a few meters away, and she made the rest of the journey on foot. It felt proper, somehow; reverent. Distant across the sand, she could hear the clangs and crashes of fighting, but the sounds didn't register in her mind. Gabrielle didn't feel the heat beating down with the sun, or rising up from the sand into her feet. All her senses were focused on the spacecraft, some unknown sense still telling her that all her unasked questions would be answered, if she just went inside.
Her breaths were slow and ragged as she reached the entrance. There was a door, ajar in the casing of the ship, where the steam trickled out. Gabrielle didn't realize how hard her fingers were shaking; she only used them to pull the door open, and climbed inside.
Gabrielle's foot crunched down on the shards of shattered crystal, and she pulled it back up, stepping more carefully. The spacecraft was as vast inside as it had looked from without, lit by a glow from some unseen source in the walls. Everywhere shone with crystal walls, snaking honeycombs of glittering gem coating the entire ship. Gabrielle's mouth opened and her eyes took in the shimmer. But one wall of the structure was nothing but blackness, the crystal scattered all over the floor. In its place was a large black machine, coiled and twisted around the remaining wall. Gabrielle stepped up to it, and traced the SPIDER symbol engraved on the plastic.
She rolled her shoulders and cleared her throat, trying to get rid of the dull pains that were sinking into her body, into her very bones. She couldn't be distracted by anything, not now, not so close. Instead, Gabrielle went farther inside, searching through the structure for her destiny.
As she passed more time, the pains increased. After only a quarter hour exploring, Gabrielle sank to her knees. She didn't feel the shards of crystal that bit into her skin; that pain was too small next to the dull, persistent ache. "Please….God, please," she muttered, her hands gripping the shirt over her heart, as if that could stop the feeling. "Just tell me…Just tell me what you wanted me to know…"
"Hello?"
The single word echoed through the chamber, and Gabrielle looked up. She was alone. "H-hello?"
"Hello?" It echoed again. Gabrielle felt a puff of air near her shoulder, and the voice was closer, stronger. But in her own state, she could hear the pain in the ghost sound.
"Who are you?" Gabrielle asked, looking around into the air. "Did you…did you bring me here?" Her voice cracked on the last word, and she slumped farther forward with a moan. She didn't know about the radiation leaking from the cracked walls into the core of her body, she only knew that her insides felt tied into knots, that her head was pounding harder as her breaths grew shorter.
"Bring you?" the voice repeated, closer still, and Gabrielle felt a feather-light touch on her shoulder. "Hurt….you hurt?"
"Yes…" Gabrielle winced. The pain was in her lungs, in her bones, in her heart, everywhere. But it didn't matter now. She would get through it now. This was too important.
The voice was hushed and gently echoed, no matter how close it came to her ear. It sounded feminine, otherworldly so, the voice of an angel. "I hurt too…help…I help…"
"Yes, please, please help me," Gabrielle whispered, too focused on keeping her strength to beg any louder and lose face. "Tell me…please tell me who you are?"
The voice whispered, and Gabrielle felt more touches, passing through her, reaching into her core. "Shh…I help. As another...helped me..."
The pain was going away. So was Gabrielle's vision. There was a ringing in her ears, spots before her eyes, and she couldn't smell the smoke that still swirled through the cabin of the ship. The ghostly hands sucked the aching, burning pain out of her body, but it couldn't stop the inevitable. Her breathing became more ragged, more shallow, although she no longer winced with each inhalation. Her eyes rolled and opened once more to look up, to see the shimmering, translucent figure bent over her. She was formless and beautiful, and the last thing that Gabrielle saw. She heard a long, wailing gasp, and felt the entity's ghostly hands sinking deeper into her body, desperate for something. Gabrielle tried to ask what, but her voice and her consciousness failed her. Her eyes closed and refused to open again, and she passed out on the crystal floor of the ship she had given everything to find.