Post by Admin on Apr 21, 2009 15:34:51 GMT -5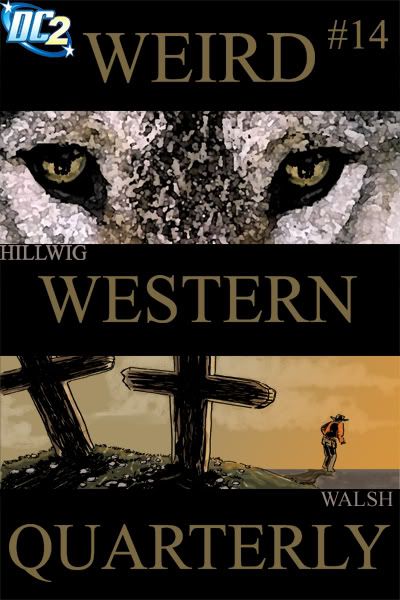 Weird Western Quarterly #14
Written by Susan Hillwig and Don Walsh
Cover by Roy Flinchum
Edited by Mark Bowers
TILL DEATH DO US PART
1871:
It was a quiet day in Tanglewood, which was just how the sheriff liked it. He leaned back in his office chair and perused a newspaper, glad to have the free time to do so for a change. The paper rustled softly as he straightened it out, but he soon laid it down in his lap when he heard a man step into the office. "Can I help you, mister?" the sheriff said.
"Name's Cochrane," the man replied. "I'm lookin' for a bounty hunter, calls himself Hex. You know of him?"
"All too well. He rode into town 'bout three months back, caused a Hell of a ruckus." The sheriff looked Cochrane over: he appeared rather rough-and-tumble, but then again, so did many people out West. "What's your interest in him?"
There was a pause, then Cochrane said, "A job offer. Do you know where he is?"
"Not directly. He was staying in town with a Chinese girl for a while, but the two of them left a few weeks ago." The sheriff looked down at his paper and began to fold it neatly, saying, "I know they took the stage to White Mill to catch the train there, since our spur's not..."
"He left with a girl?"
"Yeah. Figure a guy as ugly as that finds a woman to bed down with, he doesn't want to lose track of her." The sheriff smirked, looking back up at Cochrane, only to find the man was heading out of the office without a word. "Well...glad I could help," the sheriff muttered, then reopened his newspaper with a snap.
* * * * * *
The train belched out a cloud of smoke as it pulled into the station. Workers began to appear on the platform almost immediately, both from inside the station house and off the train itself, each having their own duties to perform. After a few minutes, departing passengers joined them in milling about the platform, as did those who were waiting to get on the train themselves. Moving through the midst of it was Jonah Hex, a pair of carpetbags tucked under one arm and the other wrapped gently around Mei Ling's waist. "Where in blazes is he?" Jonah muttered as he tried to see past the crowd. "Ah told him we'd be comin' in today."
Then he heard his name called out, and he turned to see a grizzled old man walking towards them with a grin. "Hex, you ornery buzzard! Is that really you?"
"Whut's left of me, Ah reckon." Jonah let go of Mei Ling and threw and arm around the man, saying, "It's good tuh see yuh, Windy."
"You say that now that you're here, but what kept you from gettin' your ass up thisaway all them other times?" He poked a finger at Jonah's chest. "Look at you: Mister Big-Shot Bounty Hunter, roamin' all over God's green Earth, an' you can't be bothered to drop in on the one fella that taught you everything."
"Well, Ah'm here now, ain't Ah? Don't thet count fer something?"
"Dunno. I ain't even decided if'n I'm lettin' you sleep in the house yet."
Mei Ling cleared her throat, reminding Jonah of her presence. "Sorry, sugar," he said. "Mei Ling, this here's muh old scoutin' partner, Windy Taylor."
"A pleasure to meet you, Mr. Taylor," she said, giving him a slight bow.
"Never you mind that 'Mr. Taylor' nonsense. Folks just call me Windy." He grinned at the two of them. "This sure is a nice change from gettin' a letter from you every couple of years. Y'all plan on stickin' around for a while, or is this just a quick stopover?"
"Ain't really decided yet. We's on our way tuh San Francisco, tuh see her brother an' his family," Jonah said, putting his arm around Mei Ling's waist again. "Ah just figured we'd drop in on yuh since Cheyenne lay along the same track."
"Well, I'm glad I picked the right place to homestead, then." Windy waved a hand towards the end of the platform. "Come on, let's get away from this ruckus. We'll head on back to my place, an' I'll cook y'all up a real nice supper."
They made their way around to the side of the rail station to an empty lot, where a horse-drawn wagon sat waiting. As they approached, a dark-gray wolf suddenly jumped out of the wagon and ran over to them. Mei Ling let out a gasp, and even Jonah looked a bit apprehensive. "Oh, don't mind him," Windy said with a chuckle. "Ironjaws is as harmless as a pup...ain'tcha, boy?" He knelt down and scratched the animal behind the ears.
"It's a wolf, Windy," Jonah said. "Ain't no such thing as harmless."
"He don't
know
he's a wolf. Found him a couple winters back, damn-near frozen, an' all his littermates dead. Reckon some hunter must've killed their mama, so I took him home. He don't even remember bein' wild." As he said that, Ironjaws tried to nip Windy's fingers, and he slapped Ironjaws sharply on the snout. "No! Bad!" he told the wolf, then looked up at the others. "Okay, so maybe he's a little wild, deep down...but that ain't much dif'rent from how you was when we met, Hex."
"Ah never tried tuh bite yer fingers off," Jonah replied as he helped Mei Ling up onto the buckboard. Windy took a seat next to her and picked up the reins, while Hex got in the back with both the luggage and the wolf -- the bounty hunter kept a close eye on the animal as they made their way out of town and into open country.
"How long have you lived in Cheyenne, Windy?" Mei Ling asked after a time.
"Since afore it was here, actually. I built a little cabin up here in '33 or so, back when I was just startin' out as a trapper. Then me an' Bess -- God rest her soul -- we got hitched in '42, an' she settled in to take up her wifely duty. It was just the two of us 'til our boy Tod was born...quite a peaceful life, nice an' cozy." He gestured at the surrounding landscape, saying, "Then the Union Pacific decided to run that blasted line through here an' blow that peace all to Hell. They say railroads bring progress, but I think they just bring trouble."
"We've had our fill of railroads lately, Windy, so shut it," Jonah said from behind them. "Yuh always talked too damn much, anyhow."
"An' you always talked too damn little. I swear, gettin' more'n three words outta you some days was like pullin' teeth."
Mei Ling smiled and added, "He is still like that. I have never met anyone so uncomfortable with speaking."
"Ah ain't uncomfortable," Hex interjected, "Ah just don't see a point in talkin' when yuh ain't got nothin' tuh say...unlike some people." He caught Mei Ling's eye, then hitched a thumb at his old partner. "There's a reason folks call him 'Windy', yuh know."
"That's nothin' compared to what them boys at Fort Winona used to call you..."
"Not a word 'bout thet!" He thumped Windy on the back as the old man let out a guffaw.
The two men continued to snipe at each other as the wagon trundled down the rutted trail, Mei Ling doing her best to stifle a giggle now and then. A few hours after passing the outskirts of Cheyenne, Windy's homestead came into sight. The cabin he'd originally built had been added onto and refurbished many times over the past four decades, giving it a slightly piecemeal appearance. A slim plume of smoke was drifting above the roof, which wasn't unusual in and of itself...but the fact that it was coming from the side of the cabin opposite the chimney most certainly was. "Goddam it...they're at it again!" Windy said.
"Whut's all this about?" Jonah asked, trying to get a view from the back of the wagon.
"Bit of a personal squabble." They could now see a man coming around the side of the cabin and going up onto the porch, swinging an axe at everything within reach. Windy cursed again and began to pull out a rifle holstered beside him on the buckboard. "Sorry you had to witness this, ma'am," he said to Mei Ling, "but I can't just let 'em destroy my home."
"Hold on, Windy. Ah ain't about tuh risk Mei Ling gettin' caught in a firefight. Y'all pull over there an' take cover, Ah'll take care of these skunks." The bounty hunter was already preparing to jump off the wagon, which was still in motion.
"Jonah, what are you doing?" Mei Ling twisted about and tried to grab hold of him, but it was too late: he hit the ground and rolled, then began to move towards the cabin, doing his best to stay hidden in the high buffalo grass. The man on the porch had spotted the wagon, and was shouting to someone else unseen as he drew a sidearm. Jonah drew his own guns and continued to creep forward, trying to close the distance between himself and the cabin.
The man on the porch was starting to head around back the way he'd come -- Jonah was still a good hundred yards away, but he deemed the distance close enough and opened fire before the man fell out of sight. A bullet clipped the man in the side, causing him to stumble before he whirled around and fired blindly Hex's way. The bounty hunter lay flat and still in the grass, listening to the man move towards him, then he popped up and let off three quick shots. Caught unawares, the man went flying back with a trio of red blooms spreading across his chest.
Thet's one...how many more?
he wondered as he headed towards the cabin. Before he could reach it, a second gunman appeared from around back, pistols blazing. Hex dove for cover, but he felt a shot pass through his calf for his trouble. Bleeding and cursing, he made to shoot back, only to see Ironjaws charge past him and attack the gunman -- the wolf had jumped off the wagon right after Hex, and had been sneaking along behind him the whole time. Ironjaws threw its full weight at the gunman, knocking him to the ground and sinking its teeth deep into his arm. He yowled and tried to take aim at the animal with the pistol in his free hand, but Jonah blasted the gunman between the eyes before he got the chance.
"Good boy," Jonah said to the wolf, then carefully poked his head around the corner of the cabin to see a man running towards some horses nearby. Jonah let off a couple more shots, winging the man as he climbed onto his horse, but it wasn't enough to stop him from riding off. Hex cursed again and turned his attention to the cabin itself: the men had splashed kerosene across the side wall and lit it, hence the smoke, but it hadn't spread too far yet. Holstering his Dragoons, Jonah headed over to a well behind the cabin and started hauling up the bucket.
By the time he'd splashed three buckets of water over the flames, Windy and Mei Ling had come down from the road. She immediately went over and embraced Jonah, then let out a gasp when she saw the blood running down the side of his boot. "You're hurt! We need to get you to a doctor."
"It'll keep," he said. "First thing we've gotta do is douse this here fire." She was persistent, however, and finally got him to pause in his efforts long enough to tie a piece of cloth over the wound. After close to a half-hour of wetting down the cabin's exterior and smothering the flames with an old blanket, they managed to extinguish all of it. Most of the damage turned out to be superficial, though smoke had managed to seep inside the cabin, and the place had to be aired out for a while before Windy could get down to fixing the three of them supper.
"This fella named Fenrick, he's the one that's been givin' me grief," Windy told them as he fried up some sausages on the cast-iron stove. "He came around these parts not long after the railroad, an' started snatchin' up as much land as he could. Man's not stupid: he knows the town's gonna keep growin', an' that the land 'round it is gonna get more valuable. He's been harpin' at me for months, tryin' to get my little parcel here. First he was real polite 'bout it, offerin' to buy it outright, but when he realized I didn't give a damn 'bout money, he got mean. Shot my horses, poisoned my livestock...an' now he's tryin' to burn my damn house down!"
"Isn't there any sort of law enforcement in Cheyenne? Someone who can put a stop to this?" Mei Ling asked, sitting at the sawbuck table with Jonah.
"The railroad set a fella up as constable...Hart's his name. Good man, an' he's on my side, but the trouble's been we ain't had no proof." He flipped a sausage out of the skillet and onto the floor, where it was quickly scarfed down by Ironjaws laying at his feet. "I know it's been Fenrick all along -- just smells like him, if'n you get my meanin' -- but I ain't never been able to catch any of his boys doin' it."
"Thet's a mite surprisin'," Jonah said. "Ah would've figured between yerself an' Tod, y'all would have nailed somebody's hide tuh the wall by now."
"Tod ain't exactly been around to help," Windy replied. "Me an' the boy had a fallin' out a while back...one day, he just saddled up his horse, then decided not to come home."
"Sorry tuh hear thet." Jonah recalled from his time with Windy years ago that Tod never got along very well with his father. Windy's wife Bess had managed to defuse most of their squabbles, but she'd been dead for well over ten years, and things had probably gotten worse between the two of them since then.
"Yeah, well...at least I've still got one boy 'round here I can count on," Windy said, gesturing towards Hex. "Thanks to you, I've got two nice pieces of evidence a-layin' in my barn. Reckon I'll go into town tomorrow with them in the wagon, an' then Hart can put an end to Fenrick's schemes for good! But for now..." He put the remaining sausages on a plate and laid them on the table, along with some cornbread and a little pot of beans. "Let's put all that nonsense aside an' just enjoy a nice supper."
Jonah dug in immediately, as did Windy, but Mei Ling only nibbled at a piece of cornbread. Windy noticed her reluctance and said, "I know this is probably a lot dif'rent than Chinese fare, but it ain't all that bad once you try it."
"No, I'm sure it's very good, but I..." She appeared to be turning a mite green around the gills, and laid a hand on her belly. "I just can't right now."
"Yuh should try an' get something down, sugar," Jonah said to her. "Yuh barely ate on the train."
"I know, but...I think I need to lay down for a while." She got up from the table slowly, and Jonah immediately stood beside her to offer a steadying hand. He led Mei Ling out of the main room and down the hall to the bedroom Windy had prepared for them. It was a good ten minutes before Jonah came back, and when he did, he walked past the table and out onto the porch. After a moment, Windy went to the doorway and saw Jonah sitting on the stoop, his head down and shoulders hunched. The sun was beginning to set, bathing the whole Wyoming Territory in red-gold light, but it appeared that Jonah was ignoring all that glory in favor of gazing at the toes of his boots.
"She gonna be okay?" Windy asked, but Jonah didn't stir, he just stayed hunkered down like a guilty man awaiting his punishment. The old man stepped out onto the porch and sat down next to him, saying, "If'n she's feelin' that poorly, Doc Pedersen don't live more'n an hour from here. I can hitch the wagon back up an'..."
"Mei Ling's pregnant."
That shut Windy right up, both the information and the way Jonah said it: toneless, no hint of joy or anger or any emotion at all. Just a cold delivery of fact. Not an uncommon way of speaking for Hex, but Windy would've thought that this particular subject might elicit something a bit more lively from him. When it became obvious that Jonah wasn't going to continue this conversation unaided, Windy asked, "How far along is she?"
No response at first, then he said, "'Bout two months, give or take a week. The doc back in Tanglewood figured the baby will come 'round February."
"I take it from the way you're actin' that the whole thing kind of crept up on you."
"Thet's one way of puttin' it." Jonah rubbed the back of his neck, still staring downward. "Ah'd been gone a couple weeks on a job, an' when Ah got back, she drops the news in muh lap. She thinks it's wonderful, but muhself...some days Ah feel sicker than she does."
Windy chuckled, saying, "You ain't the first man to get scared over bein' a father."
"Ah ain't scared....Ah just would've liked some more warnin', thet's all."
That just made Windy chuckle even louder. Then he asked, "So, what's the plan?"
"Same as Ah told yuh afore: we're goin' tuh San Francisco. She's got family there thet kin help her after the baby comes."
"An' what about you? You ain't gonna be around help her?" Jonah made no reply, and Windy frowned. "You lucked into findin' a sweet girl like that, an' now you're just gonna walk away from her when she's carryin' your kid?"
Jonah finally looked up at Windy and snapped, "Whut in blazes do yuh expect me tuh do? Toss her an' the baby on a horse an' drag 'em along with me while Ah'm bounty-huntin'?"
"I expect you to do the sensible thing an' marry her!"
"Ah went down thet road once...or least Ah tried tuh...yuh know thet." Even in the waning light, the sadness in his eyes was plain to see. "After whut happened, Ah decided Ah ain't never goin' down thet road again. Ah just...it don't feel right tuh marry someone else."
"You still carry a torch for her, don't you?" Windy put a hand on the younger man's shoulder, saying, "Son, I know you loved Cassie, an' I know it damn-near killed you when she died, but I don't think she'd be very happy with you playin' the grievin' widower the rest of your life. If'n you have any love for Mei Ling at all, then you should do right by her."
"Ah
do
love Mei Ling...took me some time tuh admit it, but Ah do."
"Okay then, now all you have to do is say them last two words in front of a preacher."
Jonah snorted. Not a full laugh, but enough to show that his mood was lightening a bit, and Windy was glad to hear it.
* * * * * *
Around that same time, Fenrick was standing in his study, a glass of whiskey in hand as he looked over a map of the area tacked to the wall. In the center was Cheyenne, with the rail line cutting through it. Just west of town, nestled in the foothills, was a square indicating the Taylor homestead, and less than ten miles from there was Fenrick's own ranch. It was the proximity that irked Fenrick most: he'd managed to either buy out or drive away everyone else surrounding him, but Taylor refused to budge, and after the defeat that Fenrick's men suffered today, it appeared that he might have to learn to live with it. After word got around that the gunfighter who'd assisted Taylor that afternoon was Jonah Hex -- not a name Fenrick was familiar with, but apparently known quite well by others -- all of his men refused to have anything more to do with getting rid of the old codger. Add to that the two dead bodies now in Taylor's possession, and it looked like the war between them was well and truly over. The best Fenrick could hope for now was to lessen the damage to himself: he'd fabricated a story about firing the two dead men a week before, then sent another pair off with the injured man to camp out far from Cheyenne until things cooled off.
If they ever do
, Fenrick thought bitterly, then drained his glass. Why couldn't that old man listen to reason and just take the damned money? Why'd he have to force Fenrick's hand? He went over to his desk and picked up the whiskey bottle. As he started to pour another glass, there was a knock on the door of his study. "Who is it?" he said, and the door opened to reveal Boone, one of the men he'd sent off. "What are doing back here?" Fenrick snapped.
"Sorry, Mr. Fenrick, but I didn't think you'd want to wait on this. Y'see, me an' the boys ran into somebody..."
"I told you to
avoid
being seen, you moron! If anyone tracks you back here..."
"You don't understand, sir. We ran into somebody who can help us out." Boone stepped aside and ushered a young man into the study -- he had a lean, hungry look to him, one hand resting on the pistol strapped to his hip.
"And who might you be?" Fenrick asked.
The young man's lips stretched into a thin smile as he said, "Tod Taylor, sir...an' I hear-tell that my pa's been givin' you a bit of trouble."
* * * * * *
The sun was barely up when Jonah helped Windy hitch up the horse and load the canvas-wrapped bodies into the wagon. The old man wanted to get Hart on this as soon as possible, especially now that he had guests that could potentially get hurt by this squabble between him and Fenrick. Once everything was ready to go, Windy got up onto the buckboard, then saw Jonah following his lead. "Where do you think you're goin', son?" Windy said.
"Where do yuh think?" Jonah replied. "Reckon after yesterday, Ah'm tied up in this mess, too. Might as well see it through."
"An' you're just gonna leave Mei Ling all by her lonesome? Hell, she ain't even awake yet." He shook his head. "I sure hope your kid ain't as dense as you."
Jonah glared at him, then silently admitted that the man had a point, especially since there was a chance of Fenrick's men coming around again. Still, he grumbled under his breath as he got down and stood beside the wagon. Ironjaws came up then and tried to get on board as well, but Windy pushed him down, saying, "No, boy, you ain't comin' along." The wolf didn't listen, however, and Windy shouted, "I'm gonna lock you up in the barn again if'n you don't behave!"
"Ah've got him." Jonah grabbed Ironjaws by the scruff of its neck and pulled it off the wagon. The wolf growled and snapped at him, so Jonah growled right back and bit it on the ear. With a yelp, the wolf tucked its tail between its legs and cowered at Jonah's feet.
Windy almost fell off the wagon laughing. "I
knew
you two had some things in common!" he said once he'd caught his breath. "Can only tame the two of you so far."
"Get a move-on, old man." Jonah slapped the side of the wagon, and Windy let out another laugh as he set off down the road.
It was a quiet morning in Cheyenne, and Constable J.D. Hart was in his office when Windy's wagon pulled up with its grisly cargo. There was little debate between the two men about the next step: Hart drew up the proper warrants, then he and Windy saddled up horses for the ride to Fenrick's ranch. Though Hart hadn't been a lawman for very long, Windy judged him to be a good man who took his job seriously, and more importantly, he was good with a gun -- the old man hoped that they'd be able to end this without drawing any more blood, but just in case they couldn't, he was glad Hart would be there to end it quickly.
The two men were halfway to Fenrick's ranch when they saw another rider approaching. They both tensed, expecting trouble, but then Windy's eyes grew wide, and he said, "That's my boy...that's Tod!" He got off his horse and stood in the middle of the road, waving to the young man. "Tod! Where you been all this time? I thought you was never comin' back!"
Tod sidled his horse up to them, his eyes going from his father to Hart and back again. "Somebody told me 'bout how you an' Fenrick been buttin' heads," Tod said, dismounting as well. "Thought I should come back an' finally settle the score."
Windy patted his son on the shoulder, saying, "You got good timing. We was just headin' out to see Fenrick...be glad to have you beside me if'n things get rough."
"Where exactly
have
you been, Tod?" Hart asked. Something about the young man's smile -- not to mention the fact that he'd rode in from the direction of Fenrick's ranch -- wasn't sitting right with him. As casually as possible, Hart shifted his hand closer to his gun.
"Where he's been don't matter," Windy said. "Just be happy for the extra hand." He grinned at Tod, who threw an arm around his shoulders in a friendly gesture and pulled his father close...then drew his pistol, shoved the barrel into Windy's stomach, and fired.
As the bullet ripped through Windy and exploded out his back, Hart drew his own gun -- he barely got off one shot before Tod spun and fired again, knocking the constable off his horse. Tod waited, expecting another shot from Hart, but there was no movement. "Too damn easy," the young man said, then looked down at his father's bloodied body sprawled out on the road. "I can't believe Fenrick couldn't put you away sooner." Holstering his weapon, Tod got back on his horse and headed up the road the way he'd come.
* * * * * *
Back at the Taylor homestead, Mei Ling was doing much better after a good night's sleep, and even managed to get down some eggs that Jonah fried up for breakfast. Though he tried not to show it, he was still concerned over how poorly she'd been feeling lately -- he'd heard it was normal for pregnant women to get sick to some degree, but he had no idea how sick was
too
sick -- but Mei Ling didn't seem worried in the least. In fact, once they'd finished breakfast, she insisted on picking up a little around the house while Windy was away, as a show of appreciation for letting them stay with him -- it had been many years since any female had been within those walls, and it showed. Jonah tried to talk her out of it, but she had her mind set on the task, and Jonah had found over the last three months that Mei Ling could be just as bullheaded as himself. So he relented and did his best to stay out of her way.
As Mei Ling went about her work, Jonah sat on the porch, smoking a cigarette and ruminating on what he and Windy had talked about the night before. The man had a point: marrying Mei Ling
was
the proper thing, and Jonah was a mite ashamed that the thought hadn't even entered his mind when he found he'd soon be a father. Lord, he was still trying to wrap his mind around
that
notion, why'd he need to complicate it further by tossing on marriage?
'Cause yuh love her
, he said to himself,
an' she's worth the complications. If'n she ain't, then why in blazes did yuh say yuh loved her in the first place?
With a heavy sigh, Jonah stubbed out his smoke and went back into the house. He found Mei Ling in Windy's bedroom, shaking out an old blanket and folding it neatly -- her dress shifted as she moved, and Jonah could see that her stomach was just beginning to bulge slightly. Clearing his throat, he said, "Mei Ling, Ah was wonderin'...kin we talk a bit?"
"Of course we can." She laid the blanket at the foot of the bed and went over to him. "Is something the matter? You look troubled."
"No, Ah just...Ah've been doin' a lot of thinkin'. 'Bout the two of us...well, the three of us." His eyes glanced down to her belly. "Ah know yuh want tuh be with yer family when the baby comes, an' thet's fine by me, but if'n yuh want...er, whut Ah mean is..." He took a deep breath, then forced himself to say, "Will yuh marry me?"
After a brief pause, she gave her answer: "No."
"Whut the Hell do yuh mean, 'No'?" Jonah blurted, instantly regretting the tone of it.
"I mean that I love you...but not
all
of you." She laid a hand on his chest, over his heart. "I love the good man that resides in here, and has blessed me with a child, but I do not love the killer that walks about in the world. I had hoped that, once you'd declared your love for me, that you would let go of that side of yourself, but you have not. You still insist on going out and killing men for money." A veil of sadness seemed to fall over her face as she said, "I cannot marry half a man, no matter how much I love you...so I must choose to not marry you at all."
Jonah was stunned silent for a moment, then he said quietly, "Yuh knew whut Ah did when yuh met me. Ah've never hid it...there ain't no shame in whut Ah do."
"In your eyes, perhaps, but what about in the eyes of our child?" Mei Ling replied. "It is up to us to teach him right from wrong, but how can we do that if you are always coming home with blood on your hands?"
"Thet ain't..." he started to say, but was interrupted by Ironjaws suddenly yowling out in the yard. The wolf had been stalking field mice and other little critters in the tall grass ever since Windy left, but judging by the noises it was making now, it sounded like something a mite bigger had gotten its attention. Temporarily forgetting the argument, Jonah went to the front door and saw Ironjaws running wide circles around an injured man on horseback, who was leading another horse behind him. After a moment, Jonah recognized the body slung over the second horse's saddle. "Windy!" he cried out, jumping off the porch and running as the rider stopped his horse in the middle of the yard. Hex saw a badge pinned to the man's shirt, and presumed that he must be the constable Windy told them about. "Whut happened?" Hex asked.
"Taylor's son...bushwhacked us...working for Fenrick," Hart said with a groan as he stumbled off his horse -- the left side of his shirt was covered in blood. "Got lucky...bullet's stuck 'tween the ribs...played possum 'til he was gone."
Jonah was trying to take the information in, but all he could focus on was Windy. He pulled the old man off the saddle as gently as he could, laying him on the ground -- Ironjaws came right up beside his master and whined as Jonah looked him over. "The man's a mess...why the Hell did yuh bring him here? Ah cain't do nothin' fer him."
"He insisted...said if he's going to die, he wants to do it on his own land."
Mei Ling was coming across the yard now, and Jonah pointed at Hart, saying to her, "Get this fella inside an' bandage him up." He then scooped the old man up in his arms and followed them into the house, the wolf at his heels. Hex didn't say a word as he passed the two of them, he simply continued on down the hall, leaving a trail of blood the whole way. Jonah laid him on the bed, then sat next to him, remembering how their positions had been reversed when they first met a lifetime ago. "Hang in there, Windy," he said. "If'n Ah kin make it, y'all kin too."
The old man's eyes opened halfway, and he lifted a trembling hand off the bed, brushing it against the front of Jonah's uniform. "Y'...y' gon' asker?" he slurred out.
Hex had no clue what that meant, then it sank in. "Ah asked her right afore yuh arrived."
Windy smiled, a small bubble of blood forming at the corner of his mouth. "Goo' boy...prou' o' ya..." The hand drifted up to Jonah's face and lingered on his scarred cheek. "Raise y' ri..." There was a slight twitch in his fingers, then the hand began to drop. Jonah caught and held Windy's hand for close to a minute, still looking into those old eyes that had suddenly gone dim, before setting it down across the man's chest. He then picked up the blanket that Mei Ling had folded not even ten minutes ago and draped it over his mentor's body.
Behind him, Ironjaws let out a long, low whine. He looked at the wolf and said, "Yuh kin come with me, or yuh kin stay here with him. Makes no dif'rence tuh me." Jonah then left the room, and after sniffing the blanket a few times, Ironjaws followed.
Mei Ling was nearly finished bandaging Hart's wound when Jonah came into the main room, checking the rounds in his Dragoons. "Y'all gonna be okay tuh ride?" he asked Hart.
"Think so." Hart picked up his bloody shirt and pulled it back on. "I'll do my best to keep pace. If I fall behind, just go on without me."
"What are you...no, you're not going!" Mei Ling stepped away from Hart and stood in front of Jonah. "The constable and his men can handle this, you don't have to step in."
"Maybe Ah don't, but Ah am," he answered, "an' Ah swear, it'll be the last time Ah do." Before she could ask what he meant, he said, "After me an' Hart get this mess settled, Ah'll lay down muh guns forever. Ah ain't gonna pretend thet it's an easy decision, but if'n thet's whut Ah have tuh do tuh keep yuh an' the baby...well, then Ah reckon Ah have tuh do it."
"You're serious?" she asked. "You're not just saying this to appease me?"
"Ah ain't never been one fer lyin', sugar. Just let me do this one last thing, fer Windy's sake, an' when Ah get back, Ah'll be the good man yuh want me tuh be."
Mei Ling took hold of his arms and stared up at him, overwhelmed by a mixture of joy and sorrow. "You promise me...
promise
that you'll come home safe, and that you'll
stay
home."
"Ah promise." He kissed her on the forehead, then he and Hart went back outside to saddle up fresh horses, the wolf padding along at Jonah's heel.
* * * * * *
"To be honest, I wasn't sure if you'd actually go through with it," Fenrick said as he knelt in front of the safe. "Your dislike of your father must have run even deeper than my own."
"I ain't gonna miss him, if that's what you mean." Tod crossed his arms over the splash of blood on his shirt. "Reckon that money will soften any lingerin' feelings I might get later."
Fenrick glanced at the young man, then opened the safe and pulled out a stack of bills, counting out five hundred dollars. He laid it on the desk, and Tod fanned it out with a smirk, saying, "Actually, I was thinkin' maybe we should make it an even thousand. After all, I
did
get rid of that lawman for ya."
"You mean you killed Hart as well? Are you
crazy
? Getting your father out of the way like that was risky enough, but J.D. Hart..." Fenrick paled and sat down hard in his chair. "There will be an investigation...more lawmen looking into my dealings here...this is becoming too much." He began to scoop the money back up, muttering, "I have to get out of town..."
Tod grabbed Fenrick by the wrist and twisted it. "You can run
after
you've paid me, mister. Matter of fact, I'd say my price just went up even higher."
"I'm not paying you a damn thing. You've made this situation worse than it already was." He tried to pull away, only to have Tod shove a pistol in his face. "Oh God...please, you don't have to..."
"I won't if you open that safe up again. I'm gonna need some travelin' money, if things are gonna get as hot around here as you say." The two of them went back to the safe, Fenrick's hands shaking as he redid the combination. As he opened it up, he noticed Tod was looking towards the study's window. "There's somebody outside," the young man said.
"I don't hear..."
"I'll bet you don't. Y'all got some of your boys waitin' to ambush me, don't ya? Figure it'll be safer for you if I'm dead." He held the gun inches from Fenrick's face and grabbed a wad of cash with his free hand, stuffing it in his shirt. "Why don't you an' me go for a walk, eh?"
They left the study, Fenrick in the lead, and went to the front door. "Anybody starts shootin', an' your boss will get it!" Tod shouted as he opened the door. There was no one within sight in the yard, but the young man was still wary as they stepped out onto the porch. They were halfway down the steps when Tod heard a growl. He turned to see Ironjaws crawling out from under a bench on the porch and moving between them and the open front door.
"Yuh ain't as smart as yuh think yuh are, Tod," Jonah Hex called out from somewhere unseen. "Even if the wolf hadn't scented yuh, yer horse left a trail as clear as day."
"Come out where I can see you, or else he's a goner!" Tod jammed the gun against Fenrick's head.
Slowly, Hart appeared from behind a wagon parked to Tod's right, and Hex eased out from behind a stout tree to the left. Both had their guns leveled at him. "Just let him go, Tod," Hart said to him. "We've had more than enough people die over this mess."
Tod glared at the constable, then his eyes slid over to Hex. "You know, when I rode up on Pa his morning, I'd hoped you were the one with him. I was lookin' forward to cuttin' you down as well."
"Get in line with every other skunk in the territory," Jonah growled.
"Yeah, but them other fellas don't hate you like I do. Pa never gave a damn 'bout me 'til Ma died, but you...he treated
you
more like a son than he
ever
did
me
. Always goin' on 'bout how great you was to anybody that'd listen. 'That's my boy,' he'd say. 'I taught him everything he knows.'" Tod's face locked into a grimace. "Well, today
I'm
gonna teach you something."
"Don't try it, son, Ah don't want tuh..."
"
Don't tell me what to do!
" Tod shoved Fenrick away and trained his gun on Hex, but it didn't matter: the bounty hunter's Dragoons sounded out twice, making Tod's body jerk about like a puppet before collapsing on the ground, bloodstained greenbacks spilling out of his shirt.
Fenrick was on the ground as well, sprawled out flat as Hart walked up to him. "Th-thank you," Fenrick stammered out. "Oh God, he was going to kill me...thank you...he..."
"Shut up, Fenrick," Hart said. "Just shut the Hell up."
* * * * * *
Two weeks later, many of the residents of Cheyenne gathered in the church, dressed in their Sunday best and eager for the ceremony to start. They may not have known the participants personally, but the name and reputation of one of them was hard to ignore, and once word got around that Jonah Hex was getting married, no one in town wanted to miss it.
As for Jonah himself, he was trying very hard not to think about all those people out there and just concentrate on making his damned tie look presentable. He stood in a back room of the church before a mirror, fussing and swearing under his breath as he wrestled with it. "Bad enough thet Mei Ling won't let me wear muh uniform today," he said as he yanked the tie off his neck and started over, "now Ah have tuh deal with this useless thing."
There was a knock at the door, and J.D. Hart poked his dark-haired head in. Like Jonah, he was dressed in a nice suit and clean-shaven. "What's taking so long?" he asked.
"Ah'm busy hangin' muhself," Jonah replied, finally getting the tie to behave somewhat. "This is too much damn fuss fer a ceremony thet'll be over an' done with in half an hour."
"Come on, it's not like you get gussied up like this all the time...and to be honest, you don't look half-bad." He walked over to Hex and smoothed a wrinkle out of the man's suit coat.
"Ain't worn a suit like this in over ten years. Didn't like it then, neither." Jonah paused, then said to Hart in a more agreeable tone, "Thanks again fer lettin' me lay claim tuh Windy's place. Ah know things is still a mess 'round here, with whut Fenrick did..."
"Yeah, I know, but don't worry about it. Tod was right about one thing: Windy
did
talk about you like you were his son, and I think he'd be tickled to know that you and Mei Ling are gonna homestead here." Hart cocked an eyebrow. "You
sure
you don't want me to deputize you, though? If you're not bounty-hunting anymore, you'll have to earn a living
somehow
."
"Thet may be, but Ah made a promise, an' Ah'm stickin' by it. No more gunfightin', not even as a lawman. 'Sides, Ah've socked away a little money over the years...reckon it'll hold us 'til Ah figure out something else."
"Okay, but if you change your mind," Hart began to say, but Jonah assured him that he wouldn't. The two men then made their way to the front of the church -- Jonah had managed to stay fairly calm up until then, but when he saw the crowded pews, he felt a few butterflies flutter in his stomach. He looked over at Hart, who smirked and gave him a bit of a shove so he'd keep walking up to where the preacher stood.
As Jonah stepped into place, someone began to play a wedding march on the piano, and moments later, he saw Mei Ling walk up the aisle, her white bridal dress subtly trimmed with pink on the collar and sleeves. Though a veil was draped over her face, he could still see her smiling beneath it. He smiled back, a lump forming in his throat, and took her hand in his.
Lord, let me have this
, Jonah silently prayed as the preacher began to speak.
Ah've had so many things taken from me, but Ah'll forgive yuh fer all of 'em if'n yuh let me have this.

Please, Lord, just this once...