Post by Rik (capricorn116) on Nov 21, 2010 9:15:45 GMT -5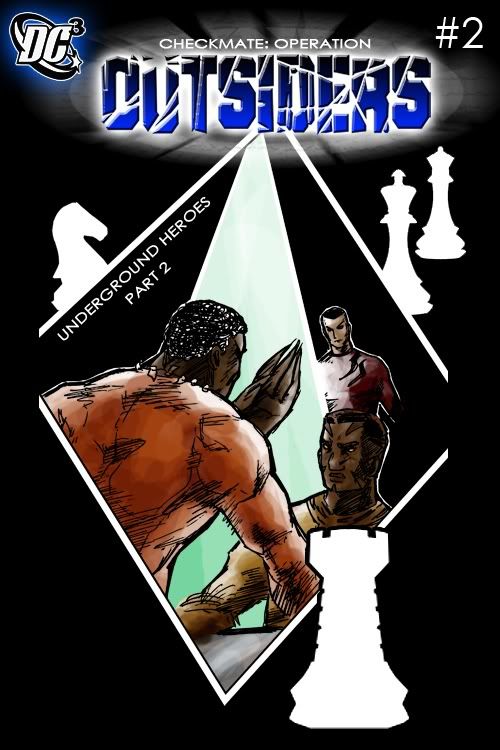 Checkmate: Operation Outsiders #2
Underground Heroes, part 2: A Look Inside
[/i]
Written by: Scott Morgan Cook
Edited by: Jay Zirron
* * * * * *[/center]
Arsenal
- Lian Harper, master marksman, Black Queen's Knight and team leader.
Elasti-Girl
- Rachel Dibny, the new Stretchable Sleuth.
Tempest
- Sarin of Atlantis, super strong son of Aquaman and master of water.
Cyclone
- Maxine Hunkel, happy-go-lucky wind witch.
Animal Man
- Warren McCabe-Shaw, inheritor of the Tantu-totem and master of the animal kingdom.
Cassandra Cain
- The former Batgirl and the world's deadliest martial artist.
Gene Nigma
- White Queen's Bishop and manager of the Outsiders.
Natasha Irons
- Pilot of Checkmate Jet 206.
* * * * * *
Now – Checkmate Headquarters Belle Reve
"You were right to bring him in." Eugene Nigma, the White Queen's Bishop said as he and the Outsiders watched the captured Bronze Tiger sit alone in an interrogation room. In addition to his orange and black outfit, Richard Turner was in shackles and handcuffs. He was, after all, an extremely dangerous man.
"The question now is what do we do with him?" Lian Harper asked.
"He's got to have information on the League." Gene said. "I say we send someone in to interrogate him."
"I'll do it." Tempest said, always ready for the chance to show off. He stepped into the room, slamming the door audibly behind him as he stood facing the prisoner, a stern look on his face.
"Do you know what I can do?" The Atlantean asked.
"Do I care?" Richard asked.
Ignoring the comment to maintain his controlled appearance, Tempest answered himself. "I'm what you might call a hydrokinetic; I can control and manipulate water. Do you know what the human body is mostly made of?"
"Well, I can tell yours is full of crap." Bronze Tiger said.
Tempest's face reddened slightly, but it passed. "Water. That means all the blood in your veins, all the fluids in your body are mine to mold."
"Is there a point to all this? Because someone more competent could be talking to me right now." The prisoner said.
Finally succumbing to his anger, Tempest grabbed Bronze Tiger by his collar and said, "With just a thought I can pull all your blood into any part of your body and make it burst. I can pop a blood vessel in your head and give you a stroke. Or I could just turn your body to solid ice."
Amazingly, Richard was unfazed by the threat. "Thank god. I've been wanting to die since you opened your mouth." He said. Tempest was clearly about to lose control when the intercom said "That'll do, thank you."
The Atlantean turned and walked out of the room, punching a chunk of cement out of the wall as he did.
"Well that was a waste of time." Gene said as Tempest returned to the rest of the group, and then did a double take. "Hey, where's Maxine?"
"She didn't want to see the 'torture'." Lian answered. "Girl's got a weak stomach."
* * * * * *
2 Years Ago - Central City
Maxine Hunkel never knew terror. Sure, there were things she was afraid of. It was normal for everyone. But she could never recall a time when she truly felt fear, until today.
Maxine woke up not in her room where she fell asleep, but in a laboratory. She was strapped to a table by her wrists and ankles, and she was panicked.
"Where am I?" She managed to gasp as her head jolt back forth, trying to find someone to talk to.
"You're in the research facility of Professor Thomas Oscar Morrow." Came a voice from behind. "And today, my dear, you'll be lucky enough to contribute to one of the greatest undertakings in scientific history."
"Morrow?" Maxine asked. "You're that guy who made the killer robot…"
"The Red Tornado, yes." The professor said. "He was such a masterpiece. It's a shame he went rogue. But that's why you're here."
"Me?" She said.
"Yes. You see, I'm hoping to recreate the Tornado, in human form this time. That's where you come in."
"What are you going to do to me?" Maxine asked.
"It's not what I'm going to do, it's what I did." Professor Morrow answered. "I've already injected you with nanobytes. When activated, they will change your cellular structure, giving you the same wind control abilities as the Red Tornado. I'm sorry to say that this will hurt a bit, so I want you to brace yourself."
The scientist pulled out a remote from his pocket and said "Are you ready, my dear?"
Before Maxine could answer, Morrow pushed a button on the remote and she felt the shock go through her veins. She would never forget that pain. That terror.
* * * * * *
Now
In the cafeteria of Belle Reve, Animal Man sat alone, sipping a cup of coffee.
My brother,
He thought.
That's the last thing I need. My brother.
Those words passed through his mind again and again. His thoughts were only interrupted by a voice saying "Hey."
Warren looked up to see Rachel Dibny, holding a gold colored soda in her right hand. "Hey." he responded, then returned to staring at his beverage.
Rachel sat down and asked awkwardly "What you got there?"
"Coffee." Warren answered. "You?"
"Gingold." Rachel said. "It's the stuff that makes me stretchy."
"See, that's something that's been bugging me." Warren said, suddenly becoming active. "You can stretch the length of a football field and yet your body is made up like a normal person's. How can you pump blood or digest food when you're thirty-feet long?"
"My powers?" Rachel said incredulously. "Look at you!"
"What about me?" He responded.
"Let's take what you did yesterday as an example." Rachel explained. "You ran with the speed of a cheetah, but kept being a human. A cheetah runs sixty M.P.H. because it was built to do that. You are clearly not. And even if you could go that fast, how could you keep that up for more than ten seconds without passing out from exhaustion?"
Warren pointed to the totem around his neck and simply said "Magic."
"That's a copout if I ever heard one." She responded.
"Yeah, I guess it is."
For a moment, they both stared into their drinks, the buzz of the light bulbs above their heads the only sound in the room.
"You're going to have to talk to him." Rachel broke the silence.
"There's nothing I could get from him." Warren said. "Tempest tried and that didn't work. What makes you think I'll do any better?"
"One, Tempest is a cocky little freak." She answered. "And two, you're flesh and blood. You'll figure something out."
Rachel downed the rest of her gingold, got up and left the cafeteria, throwing away her paper cup as she walked out the door.
Dammit,
Warren thought.
* * * * * *
During the whole conversation between Animal Man and Elastigirl, Cassandra Cain sat out of view of the pair. She was silent, as always, only bothering to move to sip the cup of water in her hand.
Cassandra didn't think in words. This isn't to say she didn't think. On the contrary, she thought as much, if not more so, than a normal person. It simply meant that her thought process didn't involve the use of any verbal language. Cassandra was brought up without the luxury of speech. She communicated best through body language; movements and actions replaced phrases and sentences. If she did think in words, however, it would read like this:
He rejects his family. I've done the same.
* * * * * *
Two Years Ago – Gotham City
Cassandra stared at her uniform in silence. She was normally silent, but this was different. She wasn't focused on the world around her, picking up anything and everything; there was just her uniform. All she took in were the two pointed ears and yellow bat insignia on the chest. Those two simple things meant so much.
Those ears and that insignia had been her mark, her protector, and her very identity for so long, too long. Cassandra was done with them. She was no longer Cain's daughter, the Demon's Fang or the Dark Knight's ward. She would still protect lives in a new place, but on her terms, not on someone else's.
"I'm done with this." Cassandra whispered. Slowly, she pulled the yellow string from her suit until it was gone.
* * * * * *
Now
Bronze Tiger was bored out of his mind. What began as repetitive questioning and intimidation had turned into a major pain in the ass. These idiots didn't realize how strong he was; he wouldn't say a thing.
"Afternoon, Richie." He heard. The assassin looked up to see Warren had entered the room. Animal Man threw a white paper bag on the table and sat in the folding chair across from him.
"What's in there?" Richard pointed at the bag with a shackled hand.
"Cheeseburger, no tomatoes." Warren said. Nervously, Richard looked into bag, pulled out the meal and took a bite, chewing it slowly.
"Richie, what can you tell me about the League of Assassins?" Animal Man asked. The assassin began to reply, but was interrupted. "Don't talk with your mouth full."
Richard swallowed his bite and said "Nothing that concerns you."
"Now you know that's not true." Warren said.
"Probably." Bronze Tiger said. "So?" He took another bite.
"Don't do this, man." Warren answered. "We need you."
"Well that's too damn bad." Richard said.
"Richard Benjamin Turner…" He began.
"Don't say it." The assassin warned.
"…please just do me this favor…"
"Don't say it!"
"…for our mother."
"God dammit, don't say that!" Bronze Tiger yelled back. "She was your mother, not mine! Don't talk like she was!" Richard swore loudly and threw the meal in his hand at the nearest wall in a great rage.
Warren knew his brother. He knew Richard had anger issues. And despite their conflicts, their rivalry, he couldn't help but pity the assassin. He was still going to get the information, but not on Checkmate's terms.
"Alright, here's the deal." He said. "You give us something to go off on, something real, and we give you amnesty."
From behind the two-way mirror, each member of the Outsiders dropped their jaws.
"What did he say?" Lian asked.
"That's right, Richie." Warren said. "Say something and we'll release you to the world, free and clear. What do you say?"
Richard knew his brother. He knew Warren had a strong moral mindset, not unlike his parents. And despite their rivalry, he couldn't help but respect the hero. He was going to give him the information, plain and simple.
"Alright, here's the thing." Bronze Tiger began. "I'm not high up on their list. These guys are master strategists; they always change their plans again and again before I'm told of them. I don't get any info until things are about to happen. But I can tell you what I do know: They're headed to an area just north of Tokyo, Japan. They're trying to find a Lazarus Pit."
Those words hung in the air. They all knew what the Lazarus Pit meant: liquid immortality. God forbid what would happen if the League got a hold of it.
"They've put a lot of their eggs into this basket. Pits were once one of their greatest commodities but all the ones they had were destroyed. Now they're desperate to get more, but they're not telling me why. Apparently, there's one in Japan and they want it."
"That's good, Richie, real good." Warren said. "You have anything else?"
"Nah man, that's all I got." He responded. "Does that give you guys enough to let me free?"
Before he could answer, Gene's voice came in loud and clear through the intercom. "Warren, a word please?"
"One sec." Animal Man said. He got up, turned around and walked out of the room, leaving Richard Turner to stare at the wall, drum his fingers on the table and exhale audibly.
* * * * * *
"We're not giving him amnesty." Lian Harper said firmly.
"C'mon," Warren pleaded. "He's given us solid information…"
"How do we know the information he's given us is really solid?" She answered. "How do you know he's not just giving you bull?"
"He's my brother." He said flatly.
"He's a killer." Lian answered.
"Well, I've heard enough." Gene said. "Neither of you are in any position to decide this."
They both silently looked towards the White Bishop.
"Now I want to get a smart person's opinion on this." Gene said with absolute calmness. "Rachel?"
The team turned towards Elasti-Girl, her expression as surprised as the rest of them. "Me?" She asked.
"Yes, you." He answered. "You've consistently proved yourself to have the best judgment here. I want to know what you think of all this."
There was a pause for a while as they all stared attentively at Rachel, eagerly awaiting her response. Finally, she spoke.
"Well, both sides have good points. For me, what it really boils down to is what happens when he leaves here.
"The guy's not an idiot. We let him go he's not going to go back to killing people. Hell, he won't even pocket a candy bar for fear of what might happen. That keeps him on the straight and narrow. What really troubles me is his well-being.
"The League of Assassins won't take too kindly to their plans being given away, especially by one of their own. And if the Lazarus Pit is as important as he says, he's dead… Dead and buried. Soon as he told us what they were planning, he put a bullet in his brain. And he probably knows it.
"What I think is this: We let him go. Cut the cord and turn him loose on this Earth. The guy made his bed now let him lie in it. If he wants any help, he'll get it. And then some."
There was a moment of awed silence. It was only broken when Lian asked "So all of that has been going through your head since Warren said 'amnesty'?"
"Pretty much, yeah." Rachel admitted.
"Now that's just unnatural." Warren commented.
"That, my friend, is a Dibny mind." Gene said. "And I think it's dead-on. We're cutting him loose."
Immediately, Warren and Lian began about how the White Bishop's was wrong and that Richard Turner should have a different fate, but Gene's decision was final and their dispute meant nothing. Bronze Tiger would go free.
* * * * * *
Richard Turner walked out of Belle Reve, looking back as the black jet took off into the sky and flew away.
Those idiots are gonna get themselves killed,
He thought as he looked around for a way to get out of the Louisiana bayou.
Richard heard a humming sound, and turned to see an official-looking man drive up in a motorboat.
"Bronze Tiger." He said. "I'd like to have a word."
* * * * * *
18 years ago – New York City
"Warren, I want you to come downstairs for a second!"
Warren McCabe-Shaw walked down the stairs of his home, past family photos and the like and turned into the kitchen, where three grown-ups sat around the table. The first two he knew as his parents, Mari McCabe and Mark Shaw, but the third was a stern looking black man he had never seen before.
"Warren," His mother said. "This is your Uncle Ben."
The boy waved nervously.
"And this is your half-brother, Richie." She said. A kid, a few years older than him, stood up and walked towards him, looking at the white tiled floor and refusing to make eye contact.
"He's my half-brother?" Warren asked.
"Yes." Mari answered with complete shame.
"Can I just say he's my brother?" He asked again.
A smile cracked across Mari's face and soon turned into a full grin as tears began to form in her yes. She answered, "Yes, you most certainly can."
To be continued...
Let us know what you think...