Post by Rik (capricorn116) on Nov 21, 2010 9:25:23 GMT -5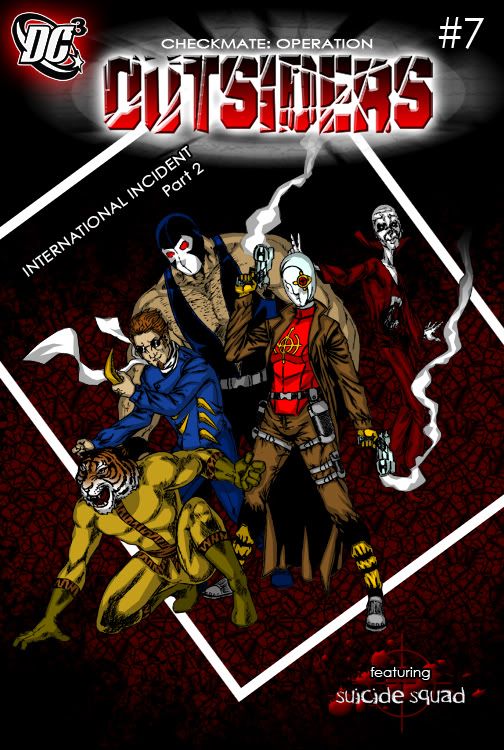 Checkmate: Operation Outsiders #7
International Incident - Part Two: Competition
Written by: Scott Morgan Cook
Edited by: Jay Zirron
Cover by: Boris Mihajlovic
*****
The Outsiders
Arsenal
- Lian Harper, master marksman, Black Queen's Knight and team leader.
Elasti-Girl
- Rachel Dibny, the new Stretchable Sleuth.
Tempest
- Sarin of Atlantis, super strong son of Aquaman and master of water.
Cyclone
- Maxine Hunkel, happy-go-lucky wind witch.
Animal Man
- Warren McCabe-Shaw, inheritor of the Tantu-totem and master of the animal kingdom.
Cassandra Cain
- The former Batgirl and the world's deadliest martial artist.
Gene Nigma
- White Queen's Bishop and manager of the Outsiders.
Natasha Irons
- Pilot of Checkmate Jet 206.
Eric Hamilton
- Pilot of Checkmate Jet 414.
* * * * * *
The Royals
Fred Freeman
- The World's Mightiest Mortal and Black King of Checkmate.
Tatsu Yamashiro
- Former superhero Katana and Black Queen of Checkmate.
White King
- ?
Caroline Kelly
- One-time vigilante and White Queen of Checkmate.
* * * * * *
Belle Reve was host to several things one would not expect to find in a government installation. Among them was a lounge. It wasn't an epicenter of relaxation and entertainment, but it was a quaint, yet comfortable, room with a couch, a recliner, two vending machines and a medium-sized television with basic cable.
Gene Nigma was in this room at present, a bag of potato chips in his hand as he sat back in the recliner and watching a baseball game. Since the Outsiders were in the field and hopefully didn't need his help, he had taken some time off. A communicator was still in his ear, but he wasn't in what was dubbed "the Control Room".
"Afternoon, big guy."
Another unexpected part of Belle Reve was Atticus Bram, the White King's Bishop.
At first glance, Atticus Bram was a slacker; he was slothful, uncommitted, indecisive and childish. He was everything one wouldn't look for in a government agent. However, once 'on the clock', Bram completely changed. He was a dedicated, knowledgeable worker, willing to do anything to make sure his job got done.
"Brambo! Come on, have a seat." Gene answered. He sat in the recliner, drinking a can of Soder Cola.
"Who's playing?" Bram asked in reference to the game.
"Metro Soldiers at Gotham Knights. Knights lead 3-1."
"Is Chris still playing?"
"Oh yeah." Gene answered unenthusiastically.
"He's getting too old for this. He's gotta retire."
"Yep. Jeph's playing too."
"He's just not good since he got traded."
"Yup."
There was a pause and they both chuckled. As Bram took another gulp of his drink, the communicator in Gene's ear started buzzing. He pushed on it and said "Hello?"
"Gene! We're in trouble!" Arsenal's voice came in with urgency.
He sat up immediately and said. "What's wrong?"
"Metas are attacking. So far I'm counting two; one speedster and one brick, probably more."
"Are they Bialyan?" Gene asked.
"I don't think so. I heard the speedster talk. He has an American accent."
"Got it. I'll call in backup." He said.
"No!" Lian answered. "We can handle this. I just need information."
"Like what?" Gene said, rushing to the control room with Bram following after him.
"Like who the Hell are those people?"
* * * * * *
Immediately after saying that, Lian was struck across the face by the speedster. Although she tumbled to the ground, she did manage to hear him say. "We're the Suicide Squad."
Despite his speed, Arsenal could still barely see her foe's movement. He was dressed in all blue, save for something white around his neck. As the speedster turned and headed towards her again, a gust of wind knocked him off course and sent him tumbling over the dirt into a tree.
"Get out of here!" Cyclone said. "I'll handle it!"
"No way!" Lian said, her hand already reaching for her gun.
"Don't even think about it."
Arsenal felt the barrel of a magnum pushing on the back of her head. Slowly, she put her hands up and rose to her feet, before abruptly pushing the weapon away from her, grabbing her gun and aiming it at her foe in one swift motion. The attacker, in response, raised her other hand and aimed a wrist-mounted gun at Arsenal's head. At that point, they were facing each other and awestruck by what the saw.
"Harper?" The attacker said, tearing off her silver mask to reveal her shocked face.
Lian was less surprised about the reunion and more bitter. "Lawton." She spat out.
Immediately, Lawton switched her expression to a cold one to match Arsenal's. "It's been a long time."
"Cut the crap." Lian responded, not amused. "What are you doing here and who are these people?"
"What, no time to catch up?" She asked, relishing the moment to annoy her foe. "No time for your old pal Deadshot?"
"Honestly, do you have a death wish?"
"It's my inheritance."
And then they silently stared at each other, each seeing her own reflection in her foe's eyes. Keep watching. They thought. Keep watching and keep waiting. She'll falter before I do. I just have to watch and wait.
* * * * * *
Dazed, the speedster got to his feet. "What hit me?" He asked to no one, looking around. Finally, he caught sight of a red-haired girl, hovering high over the ground.
"Who are you people?" Cyclone asked over the din of her own hurricane.
"How many times do I have to say we're the Suicide Squad?" He asked. The speedster reached inside his black jacket and pulled out two silver weapons and hurled them at Maxine. They were coming in fast and were difficult to see, but as they came closer Cyclone managed to make out the shapes.
"Are those…boomerangs?" She whispered.
And then they exploded right in front of her.
The blast sent her tumbling to the ground. She landed in the dirt with a thud, seeing spots. When her vision finally returned, the speedster was standing over her.
"Sorry girl." Owen Mercer said, pulling a razor-boomerang from his jacket. "It's nothing personal. It's just business."
Before he could do anything more, he was lifted up and thrown angrily by Tempest. The speedster went flying and tumbled over the ground.
"Are you alright?" Sarin asked, helping Maxine up.
"Yeah." She answered, rubbing the back of her sore head. "Just kinda dazed."
As she gripped Tempest's hand, she felt a jolt run through it, followed by a sudden drop in temperature. "What was that?" Cyclone asked. "Your hand feels cold."
"Yep. Deathly cold."
He answered. Suddenly, his grip tightened and he threw Cyclone into the depths of the forest.
"Deathly cold?" Captain Boomerang wheezed. "Really, BB?"
"Owen,"
Tempest answered.
"Don't call me BB or I swear to Rama Kushna I will snap your head off!"
"Well then what am I supposed to call you?"
"You know damn well what."
"Fine…Deadman."
* * * * * *
Elasti-Girl, meanwhile, was contending with the brute. He was silent, barely making a noise to grunt or struggle as her stretchable body tied down his limbs.
"Just who the hell are you people?" She asked, herself struggling to keep the powerhouse restrained.
"Classified." Was his response. Rachel barely heard his voice under the black and white mask, but it mattered little. She wasn't there to find his identity; she was there to control the opposition.
Controlling the opposition was proving difficult, however, because the brute had managed to lift his arms enough to wriggle out of the hold he was in. He then grabbed the still stretched form of Elasti-Girl, swung her and tossed her away.
Rachel went flying and clumsily hit something that fell over. Upon inspection, she discovered that thing was Tempest.
"Sorry man," She said. "You okay?"
She felt a jolt run through his body. His face became a mass of confusion and he asked. "Where am I?"
"You okay, Tempest?" Rachel asked. Before Tempest could answer, Elasti-Girl stretched her body and wrapped it around her ally. She constricted Sarin, and for a normal person it would have suffocated them. But Tempest merely grunted. "What are you doing?"
"I'm trying to kill you."
Deadman answered.
"Why is this so damn hard?"
"I don't breathe air." He answered. Always one to prove himself, Sarin pried his way from his possessed partner's death grip. "And I'm stronger than you."
He grabbed Rachel and said. "Now tell me who you are."
"It's me, Tempest. It's Rachel." She answered. "Why are you grabbing me?"
Sarin sheepishly softened his grip and said "Someone took over your body."
"Well that makes it official. God hates me." Elasti-Girl muttered in her usual sarcastic tone.
"We're not to keen on you ourselves."
They both turned to see a bruised Captain Boomerang, the silent brute and Cyclone standing together.
"Are you in there Maxine?" Rachel asked.
"She's here. She's just taking a break."
Deadman answered with a smirk.
* * * * * *
Arsenal and Deadshot were still watching each other, guns pointed at the other's head and eyes staring daggers. Both of them had the same feeling of tiredness in their arms but complete ignorance of the fact. They hadn't said much to each other, but what they had was one smart remark after another.
"This like something out of a Tarantino flick." Zoey Lawton muttered.
The first outside voice they heard since their reunion came from Arsenal's communicator. It was Gene Nigma saying. "Lian, it's me. Come in."
Slowly, she reached for the device on her belt and lifted it to her mouth. "This is Arsenal."
"Lian, do not engage with the metahumans." The bishop said. "They're Task Force X. They work for the U.S. government. You attack them, and then we have an incident. See if you can talk to them and may be they won't be hostile."
Arsenal swore under her breath. Deadshot smirked. Then their attention was turned to another voice, this one much more difficult to hear, as it was coming from somewhere behind Zoey. She pulled her silver mask over her head and said "Repeat that, Carmichael."
"I said lower your gun." Carmichael's voice came from the communicator in the mask. "You're looking at Arsenal. She works for Checkmate. Her team is the Outsiders. You can't kill any of them."
"I know who she is." Deadshot said. "Wait, how do you know who she is?"
"I hooked into the monocle in your mask and got a headshot of her."
"You're in my mask?" Zoey asked.
"Your mask is computerized. I can get into any computer. You do the math."
"Wait…" Lian said into her communicator. "Gene, how did you know they were Task Force X?"
"Warren told me." He answered.
"Well how did Warren know?" Arsenal asked.
"His brother told him." The bishop answered.
* * * * * *
As the remaining forces of the Suicide Squad and the Outsiders were locked in combat, they heard the loud squawk of an eagle above the din of their fight. Everyone turned to see Animal Man standing next to Bronze Tiger.
"We're on the same side!" Richard Turner announced, as Warren had to rest his voice from the raucous shriek he had just made. "We're both here to take out Bialya's super soldiers, not each other."
"More to the point, we'll be screwed by our respective bosses if we do." Deadshot said as she and Arsenal rejoined the group.
"They possessed us. They tried to kill us." Sarin said, his hands locked with those of the silent brute.
"We're not fighting them anymore." Lian said. "They're not our enemies."
As the two teams slowly separated from each other, still maintaining a strong and bitter focus on one another, Captain Boomerang said. "Deadman, I want to make sure you're present for all this. Get in Bane."
The brute twitched for a moment before saying
"Yeah, I'm here."
"All right," Owen continued talking specifically to his team. "Plan resumes as normal. We invade at sundown, bust up what they've got and get out."
"We're going with you." Lian said.
"You're not." Captain Boomerang said decisively. "This is our mission…"
"It's ours too." Arsenal interrupted him. "And you know exactly what kind of hell you'll be unleashing if you think about stopping us."
"We work directly for the president." Owen said.
"We work for Checkmate." Lian said with a smirk. "We outrank you."
There was a short pause before Deadman said
"An old-fashioned superhero team-up. Just like the old days."
"Shut up." Owen muttered.
* * * * * *
The two teams had to wait until sundown, as the Suicide Squad had learned that the compound was weakest at that time. It wasn't a long wait, but it was definitely uncomfortable. Arsenal, Captain Boomerang and Deadshot were discussing strategy. Cyclone, Tempest, Elasti-Girl and Deadman waited in silence, the Outsiders all unnerved by the ghost possessing Bane. The only ones that seemed comfortable were Animal Man and Bronze Tiger, who were nonchalantly catching up with each other.
"So that's the plan." Lian said after finishing her explanation.
"You sure it'll work?" Zoey asked. "What about opposition?"
"We're nine superhumans." Owen responded. "We can handle anything they throw at us. Wait, since when are you worried about getting in a fight?"
"I'm not worried." She defended herself. "But in this line of work, when do things ever go according to plan?"
"Hold on," Lian stepped in. "Nine superhumans? I thought we had ten."
"Ten souls, yes." Owen said. "But only nine bodies. Deadman is on our team but he's only as good as the person he's possessing."
"Thanks for the vote of confidence, Owen."
Boston Brand said as he monitored the discussion. He drifted aimlessly towards the other group, three of the Outsiders on one side, sitting across from Bane.
"So, I don't get it." Maxine said to Rachel. "Exactly why are we teaming up with the people who wanted to kill us?"
"I think we have the same intentions," Rachel answered. "But they have different methods. We're supposed to plan and gain information; they come in and kill everything. So it's our job to make sure they don't do their job while still doing our other job, I guess."
"Being a superhero's confusing, isn't it?" Cyclone asked.
"Yes. Yes it is." Rachel responded.
"I like this one. She gets it."
Deadman said to no one in particular before drifting towards the two brothers.
"And so I hit the big guy, literally head first," Warren said. "And it knocks me out cold."
"Wow." Richie answered. "Not bad. Of course, I could've done it better."
"Yeah, I totally buy that." There was obvious sarcasm in his tone. "So, new team, huh?"
"Yep. It's an okay set-up. We go in, do missions, get yelled at by the president; it's decent."
"Uh huh. And what's the rest of the team like?"
"Well, Boomer's a good field leader, but he's kind of…he's not completely comfortable leading us, you know what I mean? He's more used to the crowd he used to run with."
"Who's that?" Warren asked.
"You know those gimmicky villains from the Twin Cities? The guys who fight the Flash? It's them. And Boomer knows them better than us." Richie answered. "Now Deadshot, she scares me. She's cute, but she scares me."
"Richie, you worked for the League of Assassins. How can anything scare you?"
"Well, let me explain: Zoey Lawton is one of those people who are always quiet and brooding and you're sure that one day she's going to shoot up the place. And the U.S. Government felt it necessary to give her the world's best handguns and complete amnesty for anybody she kills."
"Whoa."
"Yeah, I know. I got on her bad side once. Never again."
"And what about the big guy?" Warren said.
"Bane?" Richie said. "He's a soldier, born to serve his country. The guys behind Task Force X recruited him and pumped him full of venom. It's…"
"A super-steroid, I know. We busted you for it. It's also illegal."
"We work for the president, so we can be pardoned. Anyway, Bane doesn't talk much. He usually serves as a vessel for Deadman."
Boston suddenly became more engaged in the conversation, or rather as an observer to the conversation. It was human nature to care about what other's opinion, and despite being a ghost, Deadman was still human.
"And what's his deal?" Warren said.
"We don't know." Richie said. "Usually, if we ever do talk to him, it's just during missions and he's always pissed off. Of course if I was him, I'd be pissed too."
"Why?"
"Well, think about the position he's in: We never see him. Literally. And we only hear him when he possesses someone. But he's said that he can see and hear us. So he's shut off from the world, but he can still watch it. It's like he's…well, he's more of an 'outsider' than any of you guys."
Deadman paused for a moment before saying,
"You're a smart one, BT."
To ears that wouldn't hear him.
Immediately, everyone's attention was turned to Arsenal saying, "It's time. Move out, people."
* * * * * *
After the teams had broken into the compound, they all found one thing: it was deserted. The chemical lab, the robotics wing, the prison; they were all empty of personnel, inmates and evidence that anybody had been there.
"Where the f*[& is everybody?!" Deadshot asked when the teams reconvened in a large, empty hangar.
"My guess is they found out we were here and cleared the place out." Elasti-Girl said. "What confuses me is why they wouldn't call in any law enforcement or anything like that."
"They came up with a better idea." A voice over a loudspeaker said. Everyone snapped to attention and prepared for a fight.
"We found out about you shortly after the elastic woman's attempt at reconnaissance." The thickly accented voice continued. "She's not very good at stealth. Initially, the people in charge wanted law officials to capture and kill these foreign spies. But someone got the idea instead using Bialya's newest defense system to do it."
Finally, five figures appeared from nowhere, all of them looking ready and eager to kill. "We are the Onslaught." The man at the forefront said, his hands becoming ablaze with flame. "And we are here to ensure your deaths."
To be continued...
Let us know what you think...