Post by Admin on Oct 17, 2009 17:44:34 GMT -5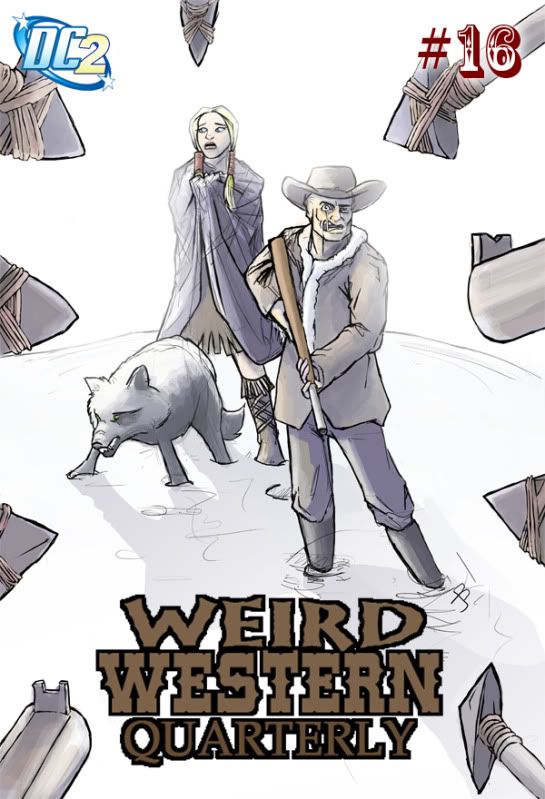 Weird Western Quarterly
Issue #16: "The Better Part of Valor"
Written by Susan Hillwig
Cover by Jina B.
Edited by Mark Bowers
1871:
"But why do you have to go
now
?"
"Same reason Ah've been stockin' up the pantry," Jonah said as he tethered the rope from his packhorse to the saddle of the one he'd be riding. "Winter's gonna be here afore yuh know it, an' Ah want tuh make sure we've got enough food stowed away in case we get snowed in." He turned to Mei Ling, who was standing next to him with an old quilt wrapped around her shoulders like a shawl. "Soon's Ah bag a couple good-sized deer, Ah'll head on home an'..."
"But that might take
all day
," she replied. "Why would you rather spend today
by yourself
than with me?"
"Ah keep tellin' yuh: it's just another day, no dif'rent than any other." The wind whipped up, bringing a chill to the yard and making Jonah shiver despite the sheepskin coat he wore. "Y'all should get back inside. The cold cain't be good fer the baby."
In response, Mei Ling began to tear up. "You don't want to be around me anymore."
"Ah didn't say..."
"You
don't
. You
look
at me, and you see how
fat
I am..." She tried to cover her swollen belly with the quilt -- she was over six months' pregnant now, and there was no way to hide it. "You think I'm ugly," she sobbed.
"Thet ain't true, not in the least," he said to her, but in his head, he thought,
Lord, do we have to go through this again?
The doctor had warned Hex that pregnant women could have mood swings, but it was one thing to be warned about them and another to constantly deal with them. It seemed like every day lately Mei Ling was either screaming at him or crying her eyes out over the stupidest things. There were days when she appeared positively giddy as well, but those seemed to be getting few and far between, and Jonah wondered sometimes if he'd be able to put up with this nonsense until the baby came. "Listen tuh me, sugar," he said as he put his arms around her. "Ah love yuh just as much now as the first time we met...maybe even a little more now." He rested a hand on her belly. "Pretty soon, this'll be over with, an' then we'll have ourselves a little boy a-crawlin' 'round the house. Ain't something wonderful like thet worth a bit of extra fuss right now?"
Mei Ling sniffled, then said, "It might be a girl."
"Oh, ain't no way Ah'm gonna..." Jonah started to say, then caught himself when he saw the look of disappointment on Mei Ling's face. "Well, if'n she comes out as pretty as her mama, thet'd be a good reason tuh keep her around. God help her if'n she takes after me, though."
That got a laugh out of Mei Ling, which made Jonah feel a little better. "I bet you were an adorable baby," she said.
"Don't know, Ah was too young tuh remember." She laughed again, and Jonah let out a chuckle of his own. "Yuh really should get back inside now, darlin'. Ah promise tuh be home long afore sundown."
"You
really
promise?"
"Ain't never broke one yet, have Ah? Now, go on inside an' take it easy 'til Doc Pedersen stops by. Will yuh do thet fer me?"
"I will...but
please
hurry home." She stood on her tiptoes to give him a kiss, then began to walk back to the house as Jonah saddled up. On the other side of the yard, Ironjaws was sniffing around in the long grass, and Hex let out a whistle as he rode by to summon the wolf to his side. Before he left the yard, Jonah looked back to see Mei Ling standing on the porch, waving a hand in farewell. He waved back with a smile, which disappeared the moment he turned away from her.
Yuh damn hypocrite
, he chided himself as he rode along.
Yuh know damn good an' well thet yuh done broke a promise already, but yuh kin never admit tuh doin' it.
It had been nearly two months since he'd killed the Perkins brothers, despite his word to Mei Ling that he'd given up his violent ways. It wasn't like he'd done it indiscriminately, though: the chances of the Perkins brothers tracking his no-account father back to their home were too great to ignore, so Jonah had done what he thought was necessary to protect his wife and unborn child. Ever since then, the decision had weighed upon him, but he'd kept his mouth shut tight.
If'n she found out 'bout it, she'd never trust yuh again on anything. It may've only been one slip-up, an' fer a good reason, too, but she wouldn't care 'bout thet, so yuh'd better do your damnedest tuh make sure yuh never slip up again fer the rest of yer life.
With a sigh, Hex tilted his hat back and stared up at the overcast autumn sky. It was thoughts like those that made him want to spend this particular day alone...and not even marriage could change his feelings on that.
"Happy birthday, Jonah boy," he said to himself.
* * * * * *
The Laramie Mountains loomed west of Cheyenne, still lush and wild and full of game despite the growing amount of settlers in the area. Snow had begun to collect up there, thanks to the higher altitude, and if the gray clouds overhead were any indication, there was a chance that there might be a bit more snow before the day was over. Jonah steered his mount along a rough path, his eyes on the constant lookout for tracks, while Ironjaws padded along beside him, following signs that only its sensitive nose could pick up. When the wolf kept leaving the path to root around in the woodland nearby, Jonah decided it was best to follow, and tied up his horses in a small clearing. He slung a satchel containing a canteen and other supplies over his shoulder, then took up his rifle and let Ironjaws lead the way through the frosted underbrush.
It had been years since Jonah had done any large-scale hunting. Sure, he'd snared a rabbit or other small game here and there on the trail, but what he was doing now was more like what he did during his time with the Apache or as an Army scout: filling the larder with more than his own belly in mind, and for a longer period of time than just one night around the campfire. Memories of those days gone by flitted across his mind as moved through the woods, memories of old lives...and of old loves. Jonah felt a twinge of guilt as his thoughts lingered on those women who had once meant the world to him. He'd told Mei Ling a small amount about his past relationships, but only enough to explain why he didn't want to wear a wedding ring -- the idea of it just made him think too much of Cassie, and how he'd lost her -- it wasn't until he showed Mei Ling the tarnished gold band he still carried in the pouch on his belt that she gave in to his wishes. Jonah supposed that, in time, he might finally be able to let go of those last vestiges of love that he held for both Cassie Wainwright and White Fawn, but until then, the secret struggle to give his wife the full amount of affection she deserved would continue.
The troubles in Jonah's heart were briefly forgotten when he spotted something moving through the woods ahead of him. Ironjaws saw it as well, and immediately crouched down at Jonah's feet. "Easy, boy," he whispered as he slowly crouched down himself, resting a hand on the wolf's neck as he peered through the trees. Sure enough, a small herd of elk were grazing a little more than fifteen yards away: one large bull and about eight cows, with a couple of calves milling between them. Jonah brought the rifle to his shoulder, then lined up the bull elk in his sights and fired. The bullet crashed through the animal's skull, and the rest of the herd scattered as the report still echoed through the woods. In the confusion, one of the females ran towards Jonah's position, so he took advantage of the opportunity and fired off two more shots, wounding but not killing it. Ironjaws leapt up without so much as a word from Hex and ran after the injured elk as it tried to veer away, eventually tripping the elk up and tearing out its throat once it hit the ground.
"Looks like Ah ain't lost muh touch," Jonah said as he walked over to the bull elk. "Took it out with one shot." He then looked over to where Ironjaws was still worrying at the female's neck. "Yuh want a hand there, boy?"
The wolf paid its master no attention, it just kept growling and thrashing the dead elk's head around.
Jonah stepped towards Ironjaws, saying, "Thet's enough, now let it go," but the wolf still wouldn't quit. "Ah said
thet's enough
!" He took a swipe at Ironjaws with his boot, and with a yelp, it finally backed off, tucking its tail between its legs. "Yuh'll get yer share in a minute," Jonah told the wolf, then took off his gloves and coat so as not to bloody them as he set to work. He plunged his sharp hunting knife into the elk's skin and tore it open, warm blood spilling over the snowy earth. After a minute of probing through the innards, Jonah pulled out the elk's liver, which he tossed towards the wolf. "There...y'all kin start in on thet."
Ironjaws snapped up the offering with a yip of delight, and Jonah's mouth curled up in a smile as he continued to dress his kill. The animals were far too big for the packhorse to handle intact, so Jonah laid out a canvas tarp and some large sacks, then proceeded to carve hunks of flesh off the bull elk and set them out on the canvas. Ironjaws continually nosed around the growing pile, only leaving it alone when Jonah tossed out another bit of organ meat. Once he was finished, he dragged the other elk over to the canvas and set to work on that. It was a long, methodical process, but worth it: once dressed, the two carcasses would yield about five hundred pounds of meat, enough to last himself and Mei Ling until springtime and then some.
Hours later, when he'd filled the last sack and was tying it shut, snowflakes began to drift down from the sky. "Couldn't have timed it better," Jonah said. He cleaned the blood off his hands, slipped his coat back on, then pulled out a flask and took a few swallows of whiskey. The action prompted Ironjaws to sit at his feet and let out a whine. He looked down at the wolf and said, "Whut, y'all want a belt?" Ironjaws whined some more, and Jonah laughed and shook his head. "Damnation...Windy spoiled yuh something fierce, didn't he?" He knelt down and poured some whiskey into his bare palm, which the wolf lapped up greedily. "Y'all satisfied now?" Jonah asked once the wolf had its share, and it responded by licking his face. He laughed again and scratched Ironjaws behind the ears, saying, "Yeah, Ah reckon Ah like yuh, too. Now, how 'bout we go fetch the horses so's we kin head on home?"
Leaving the wrapped meat behind for the moment, the two of them retraced their steps back to the clearing. The horses seemed glad to be moving again as Jonah walked them carefully through the underbrush. He hoped that he could get the entire load onto the packhorse, but judging by how many sacks he'd filled, there was a chance that he'd have to decide between leaving some of it behind, or loading up both horses and leading them home on foot.
Whut's the matter, y'all gone soft already?
he silently teased himself.
Yuh ain't become so civilized yet thet yuh cain't walk home, 'specially when it means y'all won't have tuh worry 'bout food the whole winter. Thet's worth a good long walk, ain't it?
Jonah was still turning the merits over in his head when he heard a thrashing in the woods to his right. He thought at first that it might be another elk, but then he heard what sounded like someone crying out in pain. "Whut in blazes?" he muttered, then dropped his reins and headed off in the direction of the sound, Ironjaws padding alongside him. As he did so, a figure came running out of the woods towards him, a woven blanket wrapped around their head and shoulders like a cloak. Out of instinct, Hex slipped the rifle off his shoulder and leveled it at the figure, who was so badly startled by the action that they stopped short and tumbled to the ground. Jonah approached the prone figure slowly, saying, "Ah ain't got no beef with yuh, stranger, but Ah don't like it when folks start jumpin' outta nowheres around me, so why don't yuh put up yer hands so's Ah know yo're an alright fella?"
The figure did as Jonah ordered, the blanket falling away as they did so, revealing to Jonah a surprising sight: a young white woman dressed in a buckskin dress and leggings, her blonde hair done up in twin braids. She was gasping for breath as she sat on the ground before him, tears streaking her cheeks. Jonah immediately lowered his rifle at the sight of that and said, "Aw, Lord...Ah'm sorry, ma'am. Ah didn't mean tuh scare yuh half tuh death like thet, but the way yuh done burst outta the woods..."
The words seemed to have no impact on the young woman, who continued to shed tears as she tried to catch her breath. After a moment, she managed to rasp out, "Help me..."
No sooner had the words left her mouth than Ironjaws began growling. Jonah looked over to see a quartet of Indians stepping out of the woods, two of them with bows and arrows at the ready.
Looks like yuh done stepped in it this time, Jonah boy,
he thought as he sized up the newcomers: going by their garb, they appeared to be Crows, though this was much further south than Crows normally traveled.
Might be hidin' out in the mountains from the Army...which means they probably ain't too pleased tuh be runnin' across a white man. Best put 'em at ease right quick.
His knowledge of the Crow language was spotty, so he instead addressed them in the common plains tongue, saying, "Greetings to you, great warriors. I humbly ask your forgiveness for trespassing upon your land."
One of the Crows stepped forward, a rifle of his own in hand. "Forgiveness is granted...but only if you step away from the yellow-hair." He pointed at the young woman, who whimpered at the gesture. "She is my property, and I have traveled many miles to retrieve her."
Inwardly, Jonah bristled at the implication of those words, but tried to keep the anger out of his voice as he said, "I can understand why: she looks to be a rather fine specimen. However, her desire to remain with you seems to be lacking."
"I can remedy that well enough, once she is back in my possession."
"Perhaps...or perhaps it might be more worth your while to trade her? Surely, one of my horses would be more useful to you than a disobedient white girl."
"A fair offer," the Crow replied, "but if I kill you, I can have both the girl
and
your horses." With a grin, he brought his rifle to bear.
Though the young woman had sat frozen in terror throughout the exchange, seeing that gun come up seemed to break her paralysis.
"No!"
she cried out, then threw herself at the Crow, knocking him off-balance and causing his shot to whiz past Jonah's head. Unfortunately, it soon found a new target in the form of Jonah's packhorse. The animal screamed and bucked as blood poured out of the bullet hole in its neck, and soon its terror jumped to the saddle horse as well.
Meanwhile, Jonah's own rifle was up and firing, taking aim at the bow-wielding Crows. The fourth Crow warrior had brought out an old cap-and-ball pistol, but Ironjaws knocked him to the ground and took him out just as the wolf had done with the elk hours before. The other two didn't go down so easily: Hex pumped three bullets apiece into the archers before they finally dropped, suffering an arrow to his right bicep in the process. Gritting his teeth, he yanked it out, then moved in to help the young woman, who was still wrestling with her "owner". The Crow had pinned her to the ground and was striking her with his fists when Jonah grabbed him by his long black hair and yanked him off her. "Ah don't take kindly tuh slavery," Jonah said as he stared hard into the Crow's eyes, "an' even less so tuh abusin' women." He then took the arrow still in his hand and jabbed it into the Crow's throat, not stopping until the tip poked out the other side.
Once the Crow's body stopped jerking about, Hex let it fall to the snowy ground, then turned to the young woman -- she was curled up in a ball, gasping and crying as he knelt down beside her. "Yuh okay, darlin'?" Jonah asked, then reached out to touch her, but she jerked away. "Ah swear, Ah ain't gonna hurt yuh. Ah just want tuh see whut sort of damage thet jackass did tuh y'all." After a moment, she slowly moved her arms away from her face and let Jonah help her sit up. There were a few cuts on her face and her forearms, along with some bruises, but no serious injuries that Hex could discern. "How far off is their camp? Will it be a while afore they come lookin' fer these fellas?"
Her breath hitched, then she said, "T-two days...two days north...on foot. I don't...I don't know if anyone's...if any..." She began to shake, then fell against Jonah's chest, her hands clutching tightly at his coat as the tears came out even harder than before.
Hex stiffened a little at this, then gently put his arms around her and stroked her cornsilk hair, whispering, "Hush now, little girl. Yo're safe with me, Ah swear. Hush..." When it seemed that the young woman was getting a hold of herself, Jonah said, "We should get a move-on, now. This snow's just gonna keep comin', an' there ain't no place tuh hunker down out here." He put a hand under her chin and turned her face up to his. "Do yuh trust me, sugar?"
She nodded, and Jonah helped her to her feet, saying, "Okay then, let's grab the horses an'..." He paused when he looked to where he'd left the horses and saw nothing but trampled earth. "God-
dammit
!" he shouted, then left the girl's side and stomped over to the spot. There was a blood trail from the one that had been shot, which his eyes quickly followed to where the packhorse had finally collapsed and died about thirty feet further into the woods. Hex cursed again, then began to search the ground for sign of where his saddle horse ran off to. The hoof prints were in disarray, though, and he couldn't get a good read. He put his fingers in his mouth and gave a whistle in the hope that the horse would still be within earshot, but the only animal that responded to his call was Ironjaws, running over to his side and peering up at him with an eager look. Jonah pushed the wolf away and went back to the young woman, who hadn't moved an inch. "Alright, looks like we're headin' back on foot," he said. "Gonna be a long walk, but Ah reckon we kin manage." He waved a hand towards where he'd shot the elk. "Ah've got tuh fetch some things from over yonder. Y'all wait here 'til Ah..."
"Don't leave!" The young woman's hands latched onto Jonah's sleeve, saying, "Please, don't leave me...please..." Her eyes began to tear up again.
"Listen tuh me, darlin'," he said, and gently touched her cheek. "Ah know thet skunk over there hurt yuh something bad, an' he probably made yuh feel like yuh was lower'n dirt fer a good long while...but it's all over now. Ain't no sense in stayin' scared. If'n yuh'd stayed scared afore, yuh never would've been able to run way in the first place, right?" She nodded, sniffling, and Jonah replied, "Thet's darn right. Mighty brave thing yuh did, runnin' away, an' Ah'm proud of yuh fer doin' it. Now, Ah'm gonna need y'all tuh be brave fer me a little while longer...an' thet means yo're gonna have tuh sit tight 'til Ah get back. Okay?"
"Okay," she said, but she didn't let go of his arm. Instead, she looked into his eyes and asked him, "What's your name?"
"Jonah Hex, ma'am. Mind if'n Ah ask yers?"
There was a long hesitation, as if she had to think of the right answer, then she said, "Emmy...Emmylou Hartley."
The former bounty hunter tugged at the brim of his hat and said with a smile, "Pleased tuh meet yuh, Miss Hartley." She responded with a smile of her own -- it was gone quickly, but she did smile -- then she slowly let go of Jonah's arm. "Just stay right here," Jonah told her, then looked at Ironjaws and said, "Y'all stay here, too. Ain't no point in both of us goin'."
It only took a few minutes for Jonah to reach where he'd left the butchered elk meat -- some snow had begun to accumulate on the bundles, but not nearly enough to bury it just yet.
Gonna be buried soon enough, though
, he thought.
All this meat, an' most of it's just gonna sit here an' go tuh waste 'cause Ah ain't got no way tuh carry it back.
With a sigh, he chose two bundles, then tied lengths of rope to them so he could sling them like packs: one for himself, and one for his new charge.
Thet girl...Emmy...she looks strong enough tuh handle a load like this. Hate tuh do it tuh her, but Ah lost two good horses savin' her hide, so she's gotta help take up the slack.
He retraced his steps one last time, taking a few more sips from his flask as he walked along to try and dull the ache in his bicep from where the arrowhead went in.
Used tuh be easier tuh ignore thet sort of pain
, he thought,
but with me bein' retired an' all, it's been months since Ah've gotten anything worse'n a sliver or a stubbed toe...reckon maybe Ah
am
gettin' civilized.
The flask was empty when he got back to the scene of the battle, and he felt a moment of panic when he didn't see the girl. "Miss Hartley?" he called out, dropping the bundles. "Emmy? Where'd yuh go?" Then he heard Ironjaws let out a yelp, and turned to see Emmy and the wolf walking towards him from where the packhorse had keeled over -- the young woman was toting one of the horse's saddlebags. "Whut in the blue Hell are yuh doin'? Ah told y'all tuh stay right here!" he snapped.
Emmy froze, shrinking away from him slightly. "I...I-I-I thought we should..." She sheepishly held out the saddlebag. "You said it was a long walk."
Jonah didn't understand what she was getting at, then he saw the small pile of waterskins and weapons not far from where the dead Indians lay. "Yuh was gatherin' supplies?" he asked, and when she nodded, he went over to her and put an arm around her shoulders, pulling her close. "Thet was real good of yuh, sugar," he said, "should've thought of thet muhself."
"You're...you're not mad?"
"Not a bit. Yuh just spooked me, is all. Don't go wanderin' off outta muh sight no more, okay? Snow's gettin' thicker by the minute, an' Ah don't want tuh lose yuh."
"You won't lose me," Emmy said, and she smiled for a little longer this time. "Promise."
* * * * * *
"Everything appears right as rain, Mrs. Hex," Doc Pedersen said as he fastened the clasp on his black bag. "Your weight is proper for how far along you are, no complications that I can see...only negative comment I have is that you should be resting more often than you are."
"I know, doctor," Mei Ling replied, "but I don't feel right about just laying in bed when there's so much still to do before the baby comes."
The doctor chuckled. "Like the saying goes: A man's work is from sun to sun, but a mother's work is never done." He nodded his head towards her. "I suppose that goes for expectant mothers, as well." The two of them walked to the front door, and Mei Ling handed the doctor his coat from the peg beside it. As he put it on, he said, "All I ask is that you take a break every couple hours and put your feet up. Remember that wearing yourself out affects the baby as well, and we want that little one to be as healthy as possible when it arrives."
She protectively put a hand upon her stomach. "But everything's all right for now?"
"Couldn't be better." He detected a look of worry in her eyes, though, and he said, "It's perfectly natural to be nervous, Mei Ling, especially with your first. Trust me, you're going to be a superb mother." Doc Pedersen opened the door, and a swirl of snowflakes drifted in. "Well, looks like winter's getting a head-start," he said as they stepped out onto the porch. Less than an inch of snow had fallen so far, but it was enough to put a fine frosting of white across the yard and parts of the porch.
"Do you think it's snowing up in the mountains as well?" Mei Ling asked.
"More than likely." They stood in the yard, and the doctor pointed to the west. "Yep...clouds are a lot darker thataway. It's usually colder up there anyhow, so it'll get its fair share before we get ours."
A shiver ran through Mei Ling, both from cold and worry. "Jonah went hunting up there earlier today. He promised he wouldn't be gone long, but..."
"I doubt that a man like Jonah Hex is going to be done in by a bit of snow. Might take him longer to make it back, however, depending on how heavy it's coming down up there." He then spotted something moving towards them from the direction of the mountains -- it was hard to make out through the blowing snow, but it appeared to be a horse. "Well, speak of the Devil...looks like he's already here."
Mei Ling immediately felt relief, and began to walk towards the horse, smiling and waving a hand, but as it got closer, the smile fell away as she saw that there was no rider upon it. She looked at Doc Pedersen, who was already moving forward to take the horse by the reins. The first thing he noticed about the animal was the foam upon its muzzle -- he was no veterinarian, but it looked to him like it had been running hard for a good long while. He also saw great splashes of blood across its haunches and buttocks, as well as covering a frayed rope hanging from the saddle.
"Where's Jonah?" Mei Ling said, approaching the doctor. "He would never let his horse just wander off like that." Then she saw the blood, and a shriek leapt out of her throat. "Oh my God...
no
!" Her knees suddenly buckled, and Doc Pedersen had to catch her. "
Where is he? Where's Jonah?
"
"I don't know," the doctor replied, "but don't start panicking yet. That blood could be from the horse for all we know." He turned her suddenly-pallid face away from the animal. "Just calm down...please, calm down. If you don't, there's a chance you might miscarry."
"I don't care!" she sobbed. "I want to know where Jonah is!"
"We'll find him, Mei Ling. I'll go into town and fetch Constable Hart: he's just as good a tracker as your husband. He'll get to the bottom of this, I swear."
Mei Ling heard the words, but they had little effect on her. "Jonah..." she choked out, "Jonah, where are you?"
* * * * * *
At that time, Jonah and Emmylou were hiking down the same rough mountain path Jonah had rode up hours before, the wind whirling the snowflakes around them so much that sometimes the path disappeared altogether. In addition to the elk meat, they each carried a couple of waterskins and a few other small provisions, as well as both Jonah's rifle and the dead Crows' firearms, all loaded in case of trouble. Emmy once more had the woven blanket draped around her, and with the supplies on her back beneath it, she looked like she was hunching over.
Jonah said little as they walked, his mind more on the snow-obscured path before them than conversation. Ironjaws didn't seem to mind the snow at all, and occasionally ran ahead of them for a bit before bounding back over to them, flanking Emmy on the right while Jonah walked along on her left. At one point, Emmy reached down and brushed her fingers across the top of the wolf's head, and it returned the affection by nuzzling its nose against her palm. Seeing this out of the corner of his eye, Jonah said, "Ironjaws don't take to just anybody."
"He seems very sweet," Emmy said. "He reminds me of a dog we had...before..." She looked up at Hex for a moment, then down at the path as they walked. "It's been a long time since I thought about things like that. About my...my parents...and my sister..." Her voice broke, the sound of it partially covered by the wind blowing past them.
"Yuh don't have tuh tell me if'n yuh don't want tuh," he said quietly. "Ah've been through the same sort of thing, long time ago...it takes a while tuh put it behind yuh."
She looked up at him again, but differently. "The Crow took you away too?"
"Apache, actually, but...yeah." That wasn't exactly right, but it was close enough.
"And they...kept you? Like they kept me?"
"Ah doubt Ah was kept in the same fashion as yerself."
"I suppose you're right." Silence fell between them, broken only by gusts of wind. Then she asked, "How long were you with them?"
"Three years...two bad, one good." He glanced over at Emmy. "It's complicated."
Her brow furrowed a little. "I think...it was three years for me, too. I don't know. I kind of...went away sometimes...in my head. It made things easier, especially after my sister..." Her jaw clenched, and it didn't seem as if she would continue, then she said, "No long after they took us, my sister...she got hold of a gun and killed herself. Before she did, she told me I'd have to do the same, but I couldn't, because I knew...I know that's a sin, and I'm...my mother always said I was a good girl." There was a hitch in her breath, but she didn't cry, she simply looked up at Jonah and said, "I'm still a good girl, no matter what they did to me...right, Mr. Hex?"
Before he could answer, the wind whipped up higher, and Jonah put a hand on the crown of his hat to keep it in place. It slipped off anyways, and he went to grab it out of the air, but it blew out of reach. Emmy soon joined in, running forward as the wind carried it further down the path. Unfortunately, it wasn't until she was a good ten feet ahead of him that the blowing snow parted enough for Jonah to see where she was headed. "Emmy, stop!" he yelled, but it was too late: the young woman's feet hit a patch of loose rock on the edge of the path, and she began to tumble down a sharp incline. Jonah dropped the supplies he was carrying and rushed forward to grab hold of her, but only managed to catch the end of the blanket she'd wrapped herself in -- Emmy had a hold of the other end, but not by much. As if mocking their predicament, Jonah's hat continued to whirl in the air about them, until it too tumbled down the incline and out of sight.
"Help me!" Emmy yelled as she lay against the nearly-vertical incline. "I'm gonna fall!"
"No, yo're not! Ah've got a good hold on this here blanket, an' this ain't so steep thet yuh cain't get yer feet under yuh. Just try an' pull yer legs up, sugar." She did as he asked, but the snow-covered rock was too slippery beneath her moccasins. "Okay...okay, we're gonna try something else: Ah'm gonna start pullin' yuh up, an' y'all just hold on tight an' keep yerself from swingin' about. Kin yuh do thet fer me, sugar?" Emmy nodded, and with a grunt, Jonah began pulling up the blanket hand over hand. Slowly, she moved back up the incline, though the strain of the task was quickly taking its toll on Jonah's wounded bicep: he could feel fresh blood running down his arm, despite the makeshift bandage he'd wrapped around it. "Ignore it...just ignore it," he said through gritted teeth. "Swallow the damn pain an' keep on..."
The blanket slipped out of his right hand, and Jonah lunged forward to grab it again, only to lose his own footing on the rocky edge. While he didn't go over, he did fall down to a sitting position, his right leg crumpling beneath him and smacking hard against a large wedge of rock. It hurt so bad that he cried aloud, but he didn't let go of the blanket again, he just kept on pulling. Ironjaws soon took hold of the blanket as well, providing some much-needed help to its master as Emmy finally reached level ground again. They both fell flat on the ground, Jonah on his back and Emmy laying beside him with her arms around his neck. "Thank you...oh God, thank you," she gasped.
Jonah grunted in reply, his teeth still gritted against the pain -- his leg felt like a mass of screaming nerves, and his arm was throbbing in time with his pounding heartbeat. He managed to push Emmy away, then tried to sit up and straighten his legs, but that just made things worse.
Not good
, he thought, and looked at the lower half of his right leg, which was bent at an odd angle.
Definitely not good.
Emmy now saw what he was seeing, and asked, "Is it broken?"
"Either thet, or Ah just grew a whole 'nother joint," he said, and placed his hands on either side of his boot -- that action made him cry out all over again, and Ironjaws responded to its master's howl in kind. "Shut up, yuh stupid mutt," he said to the wolf, then looked at Emmy. "Cain't tell how bad...boot's gonna have tuh come off." He tried to slip it off as carefully as possible, but even the slightest movement made the pain worse, and he eventually gave up and fell flat on his back again. Puffs of white came from his mouth as he lay there panting, his mind reeling back to the last time he'd injured his leg like this: Gettysburg. He'd been riding across the battlefield and something exploded nearby, and his horse had run into the ground. Bad fall, shrapnel everywhere, and his legs...his legs were a mess. Blood soaking his trousers. Pain shooting up to his groin. He remembered the hot July sun beating down upon him, and the sweat rolling down his face as he called out for help...someone...anyone...please...
"Please wake up, Mr. Hex!" Emmy said as she lightly slapped Jonah's cheek. "Don't die! Please, don't die!"
Jonah's eyes fluttered open, and he stared up at her in confusion, images of Gettysburg fading away from his mind...but the sweat on his face remained, contrary to the chills that gripped his body.
Shock,
he said to himself,
yo're goin' into shock. 'Tween yer busted leg, the blood yuh lost afore, an' the cold out here, yer body just cain't take it no more
. "Not...not gonna die, sugar," he managed to slur out, "but Ah ain't in good shape. Don't know how long...Ah kin..." It suddenly felt like the world was receding way from him, but he fought against it by reaching up and digging his fingers into the wound on his bicep -- the fresh pain briefly brought everything back into focus. "
Ngggh
...Ah ain't gonna say this twice, so listen close: Ah need y'all tuh fix up muh leg. Get the boot off an' splint it. Kin yuh handle thet, sugar?"
"I suppose..."
"Ain't no 'suppose' about it!" Jonah snapped. "Ah'm countin' on yuh here, so yuh better be damn sure! Now,
kin yuh handle thet
?" Though her face was pinched from worry, she nodded her head vigorously, and Jonah said, "Good girl. Now, when thet's done, we need tuh move up thetaways." He waved a hand back the way they'd come. "We passed by an overhanging of rock...kinda small, but it'll give us some shelter. Build a fire...nice big one. Don't let...don't let me get...dammit..." Everything was receding again, to the point where he wasn't even sure if he was still talking aloud. "Need y'all tuh be brave, Emmy...know yuh kin be...real brave girl..."
"I will be, Mr. Hex." Emmy's voice was a hundred miles away. A flare of pain slammed into him as her hands touched his boot, but he did his best to stay quiet so as to not unnerve her. From a thousand miles away now, Emmy said, "It won't come off."
"Cut..." Jonah tried to say, his mostly-numb hand fumbling at his belt for his hunting knife. Then another hand touched his and pulled it out of the sheath for him.
It was the last sensation he was conscious of.
* * * * * *
J.D. Hart moved down the streets of Cheyenne at a brisk pace. He'd just finished speaking with Doc Pedersen about the situation out at the Hex homestead, and both men agreed that a search party was definitely in order. They then split up to go find volunteers around town, with Hart heading for a place he knew that was not only full of able-bodied riders, but ones that also cared very much about Jonah's well-being.
"Listen up, gents," Hart called out as he pushed open the batwing doors of the Roundyard Saloon. "I just got word that Jonah Hex might be in trouble up in the mountains. He's been gone since a little past sunup, and his horse just sauntered home carrying nothing but a saddle and bloodstains. I need as many men as possible to accompany me into the foothills so we can find him and make sure he's okay."
Over at the poker table, Findley, Mike, Loy, Izzy, and Larkin sat in silence, staring at the constable. Eventually, Loy found his tongue and said, "You're kidding, right?"
"No joke. The doc says his wife's damn-near hysterical, too, so the sooner we bring him home, the better. So, who's up for a ride?"
Five chairs squealed at once as the men got up from the poker table, and Hart nodded in approval. "I've got a couple more stops to make," he told them, "so y'all meet me at the livery within twenty minutes. And make sure you've each got a firearm of some sort, just in case."
As the Roundyarders filed out, Miss Crawford stepped over to Hart and asked, "What about Mei Ling during all this? She shouldn't be alone right now."
"Don't worry, Mrs. Pedersen is keeping an eye on her. The doc..." He stopped when he noticed a stranger getting up from the far end of the bar and walking towards him. Hart had seen the man there when he came in, but being a stranger in town, Hart hadn't thought to ask the man for help in the matter at hand.
"Pardon my interruptin'," the roughly-dressed man said, "but who did you say y'all was goin' out lookin' for?"
"Jonah Hex," Hart replied. "Why, do you know something about where he might be?"
"Currently? No." An odd smirk crept into the corner of the man's mouth when he said that. "I'm just familiar with the name, is all, and his reputation."
"Well, good for you, mister," Miss Crawford said with a sniff.
"It's Cochrane," the man offered, "and though I was just passin' through, I think I can spare myself for a while to help you in your search."
"I appreciate that, Mr. Cochrane." Hart turned towards the batwings, saying, "Be at the livery in twenty, same as the rest."
"With bells on," Cochrane said, that odd smirk still in place.
* * * * * *
Jonah felt like he was drowning in quicksand: every time he struggled his way to the edge of consciousness, the weight of his injuries forced him back down even deeper than before. But that just made Jonah struggle even harder, for despite what he'd told Emmy, he knew good and well that a man could die of shock, and the longer he was unconscious, the worse off he'd be. So he fought, inch by inch, pushing past the pain until the real world began to trickle back in. First it was the smell of meat cooking, then the warmth and soft glow of a fire -- he focused his mind on these things, letting them draw him up from the darkness like a lifeline. Eventually, he managed the strength to open his eyes and saw rough-hewn rock arcing a few feet above his head.
Good girl
, he thought, and slowly turned his head to see Emmy kneeling next to the fire she'd made. Beyond her, Jonah could see the path and part of the sky -- the snow had stopped, and it appeared to be around dusk.
Ironjaws was laying next to the fire, and the wolf let out a yip when it saw Jonah moving. The noise startled Emmy, but when she saw the reason for the commotion, she almost burst into tears. "You're alive!" she said, and put her arms around Jonah's neck. "Oh my God, you've been out for hours, but I couldn't wake you up, and I didn't know what else to do..."
"Hush now," Jonah croaked, "Ah think Ah'm past the worst of it." His leg still throbbed like mad, but the chills and sweating had stopped, which he took as a good sign. Loosening her grip around his neck, he asked, "Did yuh do like Ah told yuh?"
Emmy nodded, then pulled aside the blanket she'd laid over Jonah: his injured leg was propped up on a saddlebag, and splinted with a couple of whittled-down branches and strips of cloth. "I'm sorry about your boot, Mr. Hex, but I had to cut the whole thing off."
"Thet's okay, sugar," he said, though he silently mourned the loss of a nice pair of boots. "How did it look? There any bone stickin' out?"
"No...there was some blood where the skin broke open, and it's pretty bruised and swollen in places. I cleaned it up before I wrapped it, but when I tried to straighten it out, you started yelling, so I stopped."
"Best thet yuh didn't, anyhow." Jonah propped himself up on his elbows to get a better look at her handiwork. "Gonna be tough gettin' down the mountain like this. Hate tuh say it, but yuh might have tuh head down tuh Cheyenne by yer lonesome."
Emmy's eyes widened, and she shook her head, pigtails bouncing back and forth. "I won't leave you! Never! I felt bad enough leaving you to get firewood."
"If'n thet's the case, then yo're gonna have tuh wait 'til Ah kin stand halfway decent afore we kin hit the trail again. Probably won't be 'til mornin', though." He let out a snort and muttered, "This ain't exactly how Ah planned on spendin' muh birthday."
"Is it really your birthday?" she asked, and when he nodded, a look of guilt crossed her face. "I ruined your whole day, didn't I?"
"Don't y'all worry 'bout it one bit, sugar. Weren't nobody else out here thet could've helped yuh, an' considerin' whut yuh've been through, Ah reckon Ah kin put up with a busted leg if'n it means yo're safe now."
"You really mean it?"
He smiled at her. "God's honest truth."
Emmy's face lit up at that. "Thank you, Mr. Hex."
"An' yuh kin stop with the 'Mr. Hex' nonsense. Anybody thet patches me up like y'all did kin call me Jonah."
"Okay...Jonah." She turned back to the fire, saying, "I hope you don't mind, but I cooked up some of that meat. I saved some for you." They had no cooking utensils, so Emmy had skewered bits of meat on a stick, which she now brought over to Jonah along with a waterskin.
"Ah appreciate the gesture, darlin', but Ah ain't all thet hungry right now." He laid back again, saying, "Maybe later, when Ah'm feelin' a bit more up tuh it."
"But...but I thought you were better now. You're not going to pass out again, are you?"
"No, Ah ain't passin' out. Ah just need tuh rest a while longer, is all."
"Okay." Emmy set the food down and sat quietly, watching Jonah as he shifted beneath the blanket. "Are you cold?" she asked after a while.
"Maybe a touch, but Ah'll be alright." To his surprise, Emmy lifted the blanket and laid down next to him, adding her body heat to his. "Look, yuh don't have tuh do thet. Ah'm fine."
"I know." But Emmy didn't move. They lay there in silence, Emmy's breath tickling the side of Jonah's neck. Despite the awkward situation, Jonah soon found himself falling into a light doze, and he tried to fight against it, not wanting to risk the chance of slipping back into shock. Emmy picked up on his unease and asked, "What's wrong?"
"Nothin', Ah'm just..." He looked over at her, laying beside him with one arm tucked beneath her head, and was suddenly struck by how much she looked like Cassie: same sort of hair, same eyes, same lips...the resemblance wasn't exact, but it was enough to stir old memories, ones that were quite inappropriate at that moment. He quickly turned his head away, feeling a flush come to his cheeks. "Ah think yuh should get up," he said, his voice strained.
"Why are you mad at me?"
"Ah ain't mad."
"Then why are you acting like you are? I'll do anything you ask, just tell me what's wrong."
Jonah sighed. "Yo're...yuh just remind me of somebody, thet's all." A pause, then: "She died a long time ago."
"Was it the Apache?"
"No, this was after all thet. There was a robbery, an' she was murdered." It was strange how easily the words came out: when he'd told Mei Ling about Cassie, it felt like torture, but it didn't feel that way at all with Emmy. Perhaps it was due to exhaustion clouding his mind, or their shared experience of captivity, but Jonah thought that Emmy was more capable of understanding those old pains in his heart than Mei Ling ever could. "We were gonna get married, her an' me, but...Ah never got the chance."
Laying a hand upon Jonah's chest, she asked, "You miss her?"
"Yes...God, yes, Ah miss her."
Without a word, Emmy slipped her other hand beneath Jonah's head, then turned his face towards hers and kissed him, long and deep. Jonah didn't resist, didn't pull away, instead bringing his own hands up and caressing her body, the buckskin dress she wore being the only thing separating him from her slim curves. Emmy responded in kind, running her other hand down Jonah's chest and towards his beltline -- he gasped, but not from pain, that having been driven far from his mind for the moment. Many other things had been driven from his mind as well, and pleasing the woman before him was the only thought he was currently capable of forming.
Emmy was beginning to slip out of her dress when Ironjaws suddenly leapt up, running away from the fire and down the path. The action startled Emmy, but Jonah grabbed hold of her and pulled her down, whispering, "Forget it...better without him watchin'." He sank his hands into her cornsilk hair and kissed her hard on the lips, then worked his way down to her neck, then further than that. His leg shifted, bringing a sudden stab of pain, but he ignored it and went on -- with his leg all bandaged up, there was only so much they could do, but that didn't deter them much. Emmy opened up his shirt and longjohns, then began kissing his bare chest, and Jonah leaned back and closed his eyes, his head beginning to swim from the feeling of this young woman's skin against his. As he lay there, he thought he imagined the wind howling his name...then he sat up abruptly when he realized he wasn't imagining things.
"What is it...what..." Emmy gasped, putting her arms around his shoulders, then she also heard Jonah's name being called, along with the far-off yelping of Ironjaws. "Somebody's come looking for you?"
"Reckon so." He tried to not sound disappointed. "Get yer clothes on, sugar. Company's comin'." As they hastily made themselves more presentable, Jonah said, "Take a stick from the fire an' signal 'em...an' be careful out there." She did as ordered, soon moving down the path and out of Jonah's line of sight. About fifteen minutes later, he saw Ironjaws trotting back up the path, with Emmy, Constable Hart, and a few others not far behind. Jonah forced a smile onto his face as he said, "Y'all just out fer a stroll, J.D.?"
Hart ducked under the overhang of rock and knelt beside Jonah. "Hex, you ornery cuss. What sort of trouble did you dig up this time?"
"Nothin' special: killed some Indians, rescued a girl, broke muh leg." He waved a hand at the injury in question. "Typical retirement activities."
"For you, maybe," Hart replied with a laugh. "Come on, I've got a horse that we can toss your sorry ass onto." He helped Jonah hobble to his feet. "You okay? Looks like you're sweating."
"Shock," Jonah explained, rather quickly. He kept his eyes averted from Emmylou as Hart guided him towards the horse. "Did a fine job of trackin', J.D.: Ah would figure thet the storm blowin' through couldn't have made yer job easy."
"Wasn't all me." Hart nodded towards a man who was hanging near the back of the search party. "Mr. Cochrane over there spotted your hat laying a ways down the mountain, and we picked up on your back trail not long after."
At the mention of his name, Cochrane stepped forward, holding out Jonah's Confederate officer's hat and saying, "Nice to finally meet you, Mr. Hex."
"Likewise, Ah reckon." Jonah took his hat and put it back on. "Thanks fer findin' this fer me. Rather fond of this hat."
"I hope you earned it proper," Cochrane said.
"'Course Ah did: 7th Virginia, an' proud of it. We may've lost in the end, but Ah ain't never gonna deny muh place in it all."
"Good to know." Cochrane stepped aside to let Hart help Jonah onto the horse.
* * * * * *
It was full dark by the time they got within sight of Doc Pedersen's house. Some of the search party, including Cochrane, had split off by then, returning to their own homes or back to Cheyenne for one last nip at the Roundyard. Hart had continued on with Jonah and Emmy, with Jonah filling the constable in on how exactly he'd come across the girl. When it came to what had transpired just before the search party found them, however, the former bounty hunter kept mum. To his relief, Emmy didn't say a word throughout the journey, though she occasionally turned her head to look Jonah's way. Jonah never returned the glances.
Candles burned in the windows of the Pedersen homestead, and the front door opened not long after Hart and the others stopped their horses in the yard. "Thank the Lord," Doc Pedersen said as he stepped into the yard. "Glad to see you're safe and sound, Mr. Hex." He paused when he caught sight of Emmy dismounting from one of the horses. "And who might this be?"
The constable said, "You remember the Hartley party? Went missing up in the mountains around three, four years back?" He nodded towards the young woman. "This is their daughter, Emmylou."
"Well, now, this is turning out to be a night to remember," the doctor said, then turned towards his wife, who was standing in the open doorway. "Best prepare the spare room, Judith. I think we're going to be having a guest for a while." Pedersen stepped towards Emmy and made to usher her towards the house, but the young woman shied away and moved instead towards Jonah, who had dismounted as well and draped his right arm over Hart's shoulders for support.
"I don't want to stay with him," she said to Jonah, taking hold of his other arm and standing rather close. "Why can't I stay with you?"
Jonah felt flush again. "Don't fret none, little girl. These are good folks here, an' yuh know Ah wouldn't leave yuh with nobody thet'd hurt yuh, right?" Emmy nodded, and Jonah said, "Okay, then, y'all go inside with the doc, an' Ah'll be right behind yuh."
Obedient to the last, Emmy let Doc Pedersen lead her to the house as Jonah hobbled along with Hart at his side and Ironjaws trotting behind. The constable looked at Jonah out of the corner of his eye, saying, "Seems that Emmylou's gotten pretty attached to you."
There was no answer from Hex, who kept his eyes fixed on the ground as they carefully navigated the porch steps and moved into the warmth of the house. Once inside, Jonah heard someone gasp, and looked up to see Mei Ling standing not far from the doorway. "Oh, Jonah," she said, putting her arms around him and laying her head against his chest, "what happened to you? I was afraid you'd died up there."
It took him a moment to find his tongue, then he said, "Ah just broke muh leg, sugar, thet's all. Ah'll be laid up fer a while, but..." He stopped talking when he caught sight of Emmy, halfway down the main hall with Mrs. Pedersen -- the poor girl appeared crestfallen, but stayed silent. "Ah just broke muh leg," he repeated to his wife.
Hart stepped away from the two of them once he was sure Jonah was steady. "You should be proud of your husband, Mei Ling: he saved that girl's life up in the mountains." He then looked dead into Jonah's eyes as he said, "I know how much he loves you, so I'm sure he didn't mean to make you worry."
"I know he didn't," Mei Ling said. She looked into Jonah's eyes herself now, smiling as she put her hands on either side of his face. "Promise me that you won't go hunting anymore, at least not until spring. I don't think I could take another night like this."
"Ah promise." The words sounded dead when they came out of Jonah's mouth, but Mei Ling didn't seem to notice. Still smiling, she laid her head against his chest again and gave him a hug. Jonah returned the gesture, his eyes casting about the room in an effort to look anywhere but in the direction of Emmy or the constable. Then he saw a large oval mirror next to the front door, framing the image of himself and Mei Ling standing there in a warm, loving embrace. For a long time, Jonah Hex looked at his reflection in the mirror...
...and he didn't like what was looking back.
For the next chapter in Jonah's story, be sure to check out this year's DC2 Holiday Special, coming in December! Then head on back here in January for WWQ#17 and an issue we just had to call "Auld Lang Syne"!
If you wish to comment on this issue, please
CLICK HERE
to visit the letters page.