Post by markymark261 on Jan 27, 2010 17:41:43 GMT -5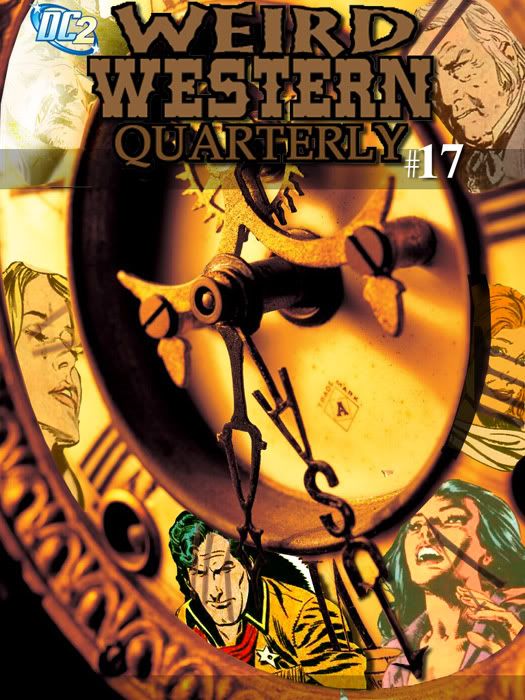 Weird Western Quarterly
Issue #17: "Auld Lang Syne"
Written by Susan Hillwig & Don Walsh
Cover by James Stubbs
Edited by Mark Bowers
4:35 pm (twenty miles outside of Cheyenne, Wyoming)
The rattling roar of the iron horse filled the air, as much if not more than the flood of sparks and clouds of smoke from the smokestacks. Despite all of this sensory overload, however, it failed to interrupt Jeanne Walker's thoughts.
The petite photographer stared off to one side, but none of the speeding scenery registered with her. Her thoughts were hundreds of miles south, left in the territory of Arizona with two men. She sighed heavily as she tried to figure out her life. It had all started easily enough, if tragically. Her father ruined by a ruthless prospecting partner; drained emotionally as well as monetarily, and all Jeanne could do was watch him drink himself away. The town drunk, a laughingstock, a joke to one and all, that's all that was left of her father when he passed away.
That gave her a mission, a goal in life. Her purpose became to expose those predators who ruined hard-working people like her father, and the best way to do that was to put their own tactics to work against them. She became the outlaw Madame .44 and wormed into their trust, and when she had milked some weasel out of his money, she set them up for the fall and took the money to the people who needed it; the people who earned it. She smiled at the faces of those she had sent up the river over the last three years of being the good Madame. It worked perfectly. She had a reputation as a ruthless snake among the lawmen, and earned her credit as a dangerous but worthy ally among the lawbreakers, and she didn't care that she knew every blue word they labeled her. She was on a mission and that was all she cared about, by God.
"Johnny," she murmured and her head lolled to one side, her brow bumped onto the window pane. She hadn't cared until she rode down to Mesa City to put a hurt on Silk Black and met Johnny Thunder. She'd tangled with these domino types before, and they were all the same: blood and thunder, righteous arms of the Lord come to smite the wicked, without any real thought to what was happening behind the scenes. They were all so sure of themselves, so full of themselves. But Johnny wasn't actually like his name. He'd been sincere, and earnest; and even unsure, especially around her. She cracked a smile and chuckled as she saw his blushes replay in her mind's eye.
"Gideon," she muttered as the blush faded out from Johnny's cheeks to her own. She gave a much more throaty sigh and shifted a little in her seat. He was handsome, so dynamic and romantic, and he smelled so amazing. She blinked rapidly as the train rattled and shook, then began to sway as it slowed, and Jeanne began to realize it wasn't the thought of the railroad tycoon Gideon Steele that had moved the world just then.
You just tell yourself that, girl. Get your head out of the clouds. He's gorgeous, fine, and he's smart and he's...Get your head straight! You're one of the West's most wanted bandits, and you're going to try and land an interview with the biggest, baddest bounty hunter alive, and if you don't have your head together--
"Jeanne Walker!" the voice called out over the release of steam, clang of bells and general riot of the passengers boarding and departing the train. Jeanne discovered she'd grabbed her suitcase, and her camera bag, then walked down to the platform and not even realized it.
This isn't good, Jeanne. Forget about the men, and this romantic stuff, and just pay attention to why you're here,
she chided herself as she walked toward the man who now called her name.
Which is to forget about Johnny and Gideon, and get back to your mission.
"Miss Walker? Howdy, I'm Constable J. D. Hart, and it's a pleasure to have you come on out to our little slice of Heaven," said the handsome young man as he tipped his hat to her politely.
"Thank you for the kind greeting, Constable. It's a pleasure to be here," Jeanne replied as she put her bag down and shook his hand. The constable made a motion to a deputy, who claimed Jeanne's trunk. "There's been so much talked about Cheyenne, that it seemed long overdue I pay it a visit, and let the folks back home take a gander." She ran her fingers through her mussed blonde hair as she spoke, and mentally gathered herself now that she had a focus.
"You'll be a welcome addition to our New Year festivities as well," Hart said with a pleasant smile as they walked away from the train station and out onto the streets of the bustling town. "It'll be a chance to meet our people all in one spot, and have some good food. See what Cheyenne's all about."
"I gather you're about the 'Magic City of the Plains' and less about the cutthroats, gamblers and scoundrels that've been collecting here since the rails got finished," she said to him with a smile, and a mischievous twinkle in her eyes.
"Well, I gotta admit to having our share of bad people, but I like to think we got a better share of good honest folk that'll make this place the Magic City you Eastern folk like to talk up all the time," Hart countered with no real trace of offense in his voice. "Of course, I know you're playing me a bit, miss, having a little fun with the prairie dog, and that's fine, but I do suggest you be a little more polite at the party."
"You're right, of course," Jeanne answered. "And it's very kind of you to take time out to show me around, and have my trunk taken care of, and settle me in right. You, sir, are a right and proper gentleman." She batted her eyes at him and smiled wider.
"Miss Walker, please," Hart countered now. "I appreciate it, but pretty young things like yourself don't give me eyes like that without reason. Nor do they come out here to take pictures of a town still finding its feet, not in the middle of winter." He stopped her short and turned to look into those beautiful eyes of hers that she'd been wielding against him. "You're here for our newest 'prominent resident', ain't that right?" He winked and then began to lead her down the street again. "It's okay, I don't know why you're playing coy about it, but it's okay."
"You got me, and I apologize," Jeanne said as she gazed away from him and out toward the far end of the wide track of snowy mud that was one of Cheyenne's major streets. "Yeah, Mr. Hex. Man like him decides to settle down, that's good for some papers back East."
"We'll be finding him, I've no doubt." Hart turned her around a corner. "Until then, there are some very pretty sights to see, if you're still interested."
"Sounds like a wonderful way to pass the afternoon, Constable."
* * * * * *
5:13 pm (eight miles outside Cheyenne):
Crisp white snow crunched beneath the wheels of the buckboard as a pair of horses pulled it along the trail. The sun was nearly down for the day, and a lantern swung from the side of the buckboard to provide some light for the passengers. Jonah Hex steered the horses along, occasionally giving the reins a snap to increase their pace, while Mei Ling sat next to him, wrapped in both a shawl and a blanket to ward off the chill in the air. Despite this, Jonah asked her for the sixth time since they left the house, "Yuh warm enough, darlin'?"
"I'm perfectly fine. You've been worrying too much about me lately." She moved closer to him and rested her head upon his shoulder. "Not that I don't like the extra attention."
"Well, Ah just...Ah don't want yuh tuh feel like...Ah don't know." His mouth twisted slightly, for he certainly did know, he just couldn't say it. The guilt over his brief indiscretion with Emmylou Hartley was still weighing upon him, and he'd been lavishing more attention on his wife over the past two months than he'd done during their entire marriage in the hopes of alleviating it. Sometimes he considered blurting out the truth just to get it out of his system, but he loved Mei Ling too much to break her heart like that. So instead of relieving himself of his burden, Jonah said, "Reckon Ah'm just gettin' anxious fer the baby tuh come."
"So am I. He's been kicking so much lately, I'm afraid he'll break one of my ribs."
"We're back on 'he' again? Given up on wishin' fer a girl?"
"It's hard to think of a girl being so strong. Here." She took hold of one of his hands and laid it upon her swollen belly hidden beneath the blanket. "Do you feel that?"
Jonah didn't feel anything, then something bumped firmly against the palm of his hand three times. "Lord, fer such a little thing, he kicks like a mule."
Mei Ling nodded, saying, "He woke me up last night with that. Just drumming away." She smiled. "A typical Monkey: very energetic."
Jonah pulled his hand away. "Did Ah just hear yuh call our baby a monkey?"
"That's what he'll be if he's born after the New Year."
"Of course he'll be born after New Year's. Thet's tonight, an' the baby ain't comin' 'til February."
Mei Ling laughed and said, "No, not the Christian New Year, the Chinese New Year. In China, we follow a different calendar, and by tradition, we name each year after one of the twelve animals in our zodiac. When our New Year comes in February, the next animal in the cycle will be the Monkey." She patted her belly. "Our child will then take on some of the Monkey's attributes."
"So yo're sayin' our boy's gonna have fur an' a tail?"
"Not
physical
attributes, more...spiritual. Monkeys are talented, free spirits. He will be very loving, and very lucky."
"Hmph...an' whut if'n he's born afore Chinese New Year?"
"Then he will be the same as me: a Goat. Still creative, but also a lover of nature. A delicate soul." She smiled at Jonah. "And a bit of a romantic."
Jonah shook his head and muttered, "It's all a bunch of nonsense."
"You're very untrusting...typical of a Dog."
"Ah'm a
whut
?" He glared at Mei Ling, who started laughing at her husband's reaction to learning his sign. As a blush came to his cheeks, Jonah said, "Don't tell nobody in town 'bout this Chinese stuff, okay? Ah don't want any of the boys at the Roundyard tuh start barkin' whenever Ah walk by."
"Of course." She gave him a peck on his ruddy cheek. "It'll be our secret."
* * * * * *
5:38 pm (Mesa City, Arizona)
"I never even had a clue you had a building like this out here," John Tane mused as he and his friend crested over the low rise. He looked at the low round adobe building as the two men continued along the rocky trail, packs heavy on their backs.
"No one does. Or at least, no one should," James Thunderbourne said as he led the way to the worn but solid structure. "Tucked up here, away from prying eyes, and greedy hands of the White Man." He glanced back at his friend, and added, "No offense."
"None taken, James," John answered with a nod of his head and sad sigh.
"It was built by my father and I shortly after the United States believed Mexico sold this land to them," James explained as they reached the building and he slipped his pack to the ground. "He said it came to him one night, a whisper on the wind that his son would need this place of retreat. We scouted these hills until this small valley spoke to him. No one else of any color skin has been brought to this place."
John began to speak as he too let his pack fall to the ground, but the words struck him like a fist. He pulled his glasses off his face and rubbed the bridge of his nose, then looked at James with his bright blue eyes. "For real?"
"Yes, John, for real. And true." He chuckled at his friend's reaction. "We are losing what little light is left, and we have much preparation to do if are to begin our work tonight." James pulled out several tools and strapped them tight to his belt and thigh.
"I...don't know what to say," John said as he followed suit and the two men began to pick through the area. John collected what they'd need to start up a strong fire, along with the wood they'd brought with them, as James gathered smooth flat rocks.
"That's a first," James said with a grin as he set himself to his task.
"Not lately, it's not," John replied bitterly. "It's been happening all too frequently."
"Miss Walker?" James stopped for a moment to watch his friend's reply.
John tensed and sighed heavily again as he made his own little pile at the entrance to the hogan. "Oh yeah, that's probably the big one. This whole ritual tonight's got me a bit rattled too, don't mind my saying."
"I don't mind."
"I'm not supposed to pollute my body and mind like you're suggesting, James," John said as he pushed his glasses up close now. "The Word of Wisdom's got some pretty good notions about that kind of thing."
"I know, and I understand the problem you face," James answered. "But we need answers. The papers you retrieved from Breyer aren't just land deeds and rail diagrams. Those marks are magical, they're..." James wasn't sure what to call them at this point. "We need guidance. My medicine does not help me understand the magic of your people. We need greater wisdom."
John stared up into the sky helplessly, and watched the way the stars twinkled back down at him, as if trying to keep their secrets and winking mischievously. "Peyote? Drugs?"
"You have entered the sweat lodge before. You have opened your mind to a larger world already. This is a sacred plant, granted by the Great Spirit to give us a chance to commune with it," James said in a powerful voice, tired of the argument. "Your people were inspired by plates of gold dug from the ground." John watched as James stepped into the hogan and started to build up the fire. He hovered at the entrance, shifted nervously from foot to foot and stared around at anything but the interior now. "Tell me about Jeanne, John."
John pulled the stones over and started to push them into the building. "I think I love her, which is just crazy, because I barely know her. And spent a lot more time with her as Johnny and her as Madame .44, you know, one of those masked desperadoes I'm
supposed
to bring to justice."
"Love's path is convoluted, as I understand it," James said as he continued to build the fire, and then piled the stones to one side. Now John and James set up the pots of water as the heat filled the small space inside. "Even when mates are chosen for us, the heart prefers to choose for itself. That's what I'm told, anyway."
"She's not interested though. She's got that Steele guy," John said glumly as he watched through the entrance, "I think."
"The man who Breyer works for? Sounds like more than just a rival for her affections."
"Breyer works for Bray, that's what we've learned so far," John corrected his friend. "Gideon's rich, and he's a handsome devil, I have to admit. I'm just a schoolteacher."
"Take your glasses off and get in here, will you? Johnny Thunder is needed, not John Tane," James said, exasperated with his friend now. "As for looks...don't make me say anything." He snorted slightly as he began to add water to the heated rocks, to test the steam. "John, she's a good woman. You're a good man. Masks, they just hide the truth, but not forever."
John folded his glasses carefully and placed them gingerly into his pack, then swallowed hard. He forced himself into the building as James pulled off his shirt now and set it aside. "Don't really matter right now, anyway. She's bolted, gone off who knows where, and I'm here, doing God knows what."
"Getting answers, my friend. We both are going to get answers, and if we do this right, and the spirits are listening, we're going to get answers to questions we haven't even asked yet."
"This is messed up seven ways to Sunday, James, but thanks. For listening, for smacking me upside the head when needed, and for sharing… this."
"Of course. Now stop talking like a woman, and get yourself ready." He laughed and poured more water, the hiss and steam filled the room, and Johnny Thunder unbuttoned his shirt with shaky hands.
* * * * * *
6:52 pm (Cheyenne)
"Happy New Year!" Loy stumbled through the crowd gathered in the town hall, a bottle of something swinging from one hand. When he got within range of Jonah and Mei Ling, he pitched forward into Jonah's surprised arms." I'm
soooo
glad you made it!" Loy said, grinning up at the man.
"Ah kin tell," Jonah replied, then shoved Loy to an upright position. "Started celebratin' a mite early, did we?"
Loy ignored the comment and turned instead to Mei Ling, slurring out, "And Ling's here...Mabel Ling...Baby Ling!" He stooped over and cooed in the general direction of her stomach, "
Hellooooo
Baby Ling!"
"There he is." Findley, Larkin, and Miss Crawford came over, with Findley taking hold of Loy's shirt collar so he could straighten his inebriated friend up. "Sorry about that, Mrs. Hex. We had a little pre-party party over at the Roundyard, and Loy...well..."
"He got sloshed," Larkin finished.
"Thet's one way of puttin' it." Jonah jerked a thumb towards the town hall doors and said to Findley, "Why don't yuh go 'un-slosh' the jasper in the nearest horse trough?"
Findley grinned. "Great minds think alike." He then slung Loy over his shoulder and proceeded to make his way through the crowd, but not before Larkin plucked the bottle out of Loy's hand and took a swig.
"Well, aside from that rude interruption," Miss Crawford said, trying not to laugh, "how are you enjoying the party so far?"
Mei Ling smiled and gave a slight bow, saying, "Just fine, thank you. It's nice to get out of the house and be with friends. Between my condition and Jonah hurting himself, I have not been able to do so in a while."
"Probably won't be any easier to do after the baby..." Miss Crawford stopped mid-sentence as a loud splash, followed by a bellow of "
CHRIST-JESUS!
", came from outside -- those folks standing near the doors laughed and cheered at the entertainment provided by Findley sobering up Loy.
"Sounds like thet did the trick," Jonah said, while Mei Ling glanced towards the doors with a look of shock. "Don't worry, Ah'm sure the boy kin swim," he told her.
Larkin looked towards Jonah's feet, saying, "No little wolf buddy tonight?"
"Left Ironjaws at home...figure with all these folks around, he might get too riled up an' take a nip at somebody." Jonah took the bottle as Larkin passed it over. "By the by, where's the rest of the gang?"
"Mike and some other fellas have a poker game going back at the Roundyard. A couple of greenhorns wandered in off the 5 o'clock train, and Mike's been fleecing them ever since."
"Remind me tuh stop by later on an' fleece Mike in return." Jonah took a pull off the bottle. "How 'bout Izzy? Him an' the missus stay home?"
"Actually, Izzy's wife wants to see you." Miss Crawford took Mei Ling by the hand. "She and I got together with a few of the other ladies around town and gathered up a little collection of things for you and the baby."
A blush came to Mei Ling's cheeks as she said, "Oh my, you didn't...That's so wonderful! Isn't it, Jonah?"
"Certainly is. A mighty fine gesture on yer part, Miss Crawford. Makes me doubly glad thet Ah picked yer establishment tuh hole up in outta all the others in town."
"Never let it be said that I don't treat my customers proper." She leaned close to Mei Ling and said in a conspiratorial whisper, "So, you wanna see what you hauled in?" Mei Ling laughed and nodded, and the two ladies headed off to the back of the town hall.
"Gonna be a regular hen party," Jonah muttered, tipping the bottle in their direction before taking another swig.
"Speaking of women," Larkin said, "there was a blonde gal looking for you earlier."
Jonah choked on a mouthful of booze. "Cuh...
koff
...come again?" he sputtered.
"Before we left the Roundyard, the constable stopped by with this fine piece of calico. She was asking what we thought of you." He scanned the crowd, then pointed and said, "That's her...right over there."
Reluctantly, Jonah looked to where Larkin was pointing and saw a blonde-haired woman in a velvety blue dress, her back towards Jonah as she spoke with Constable Hart.
Emmy
, he thought, and his throat suddenly went dry.
Good Lord, Ah should've thought of this
. He pushed the bottle into Larkin's hands, saying, "Listen, Ah'm...Ah'm gonna go over tuh the saloon, buy into thet poker party. Anybody asks, thet's where Ah am, okay?"
Before Larkin could answer, Jonah was walking quickly towards the doors. As he neared them, Findley stepped back inside, an arm around Loy's soaking-wet shoulders. "Hey, where you going, Hex?" he asked.
"Out," was Hex's curt reply as he passed them.
"Well, don't be gone too long. We've only got..." Findley deftly whipped out his pocket watch, then called out, "four hours and fifty-nine minutes 'til midnight!"
"Time enough for another drink," Loy declared, dripping beside him.
* * * * * *
7:01 pm (Cheyenne)
"Who on Earth is that yelling?" Jeanne asked.
"That would be 'Tick-Tock' Findley, our unofficial town crier," Constable Hart replied.
"Just another of Cheyenne's 'prominent residents'?" Jeanne smiled. "I still have yet to see the main attraction, though. Are you sure he'll show up tonight?"
"Pretty sure I just saw him a few minutes ago."
"Really?" Jeanne turned around but failed to see anyone that matched the description of the infamous Mr. Hex. She saw a man who she recognized from her earlier tour of the town looking towards the door, who then turned back to look at her now, giving her a shrug before he drunk deep from a bottle. She gave a restrained wave of her fingers at his apparent salute, then said to Hart, "I'm sorry, but if he's here, he doesn't stand out nearly as much as the stories say."
"Oh, trust me, he'd stick out like a sore thumb. The man's doing his best to be an average citizen, but..." Hart paused, then said, "Hold on, I may have a lead." He led Jeanne towards a group of women gathered near the back of the hall -- there was a table nearby, upon which sat some blankets and linens, along with a homemade doll or two. As they approached, Jeanne saw a very pregnant Chinese woman seated on a chair in the middle of the group, smiling as she held up a small white gown for all the rest to see. "Hope you don't mind the interruption, ladies," Hart said, tipping his hat. "This here is Jeanne Walker, the photographer, come up to our little town to snap pictures of the sights. She was also interested in perhaps speaking with a certain husband, whom we seem to be having trouble locating." He nodded towards the Chinese woman and said, "You don't happen to recall where you left Jonah, do you, Mei Ling?"
"He was with Larkin when I last saw him," she replied. "Perhaps he's still..."
"Not anymore," Hart said with a shake of his head. "Saw him by his lonesome right before we came over. I'll go check with him next, though. In the meantime, I think it'd be best for the two of you to have a little chat." He gestured from Jeanne to Mei Ling, saying, "If you want to get to know the man, Miss Walker, I'd say his wife is the best place to start."
One of the ladies fetched another chair, and Jeanne soon found herself sitting next to Mei Ling as the other women continued to present her with little necessities for the baby-to-be. The whole situation was very strange for Jeanne: in all her years, she'd given very little thought to settling down, much less having a child, so watching all these women coo and giggle over tiny outfits and crocheted booties was akin to witnessing some foreign ritual. In an effort to focus through it all, she kept her eyes on Mei Ling, who accepted all this attention with a demure smile, nodding her head and saying "Thank you" in such a soft, quiet voice...could this delicate person really be the one that tamed the wild man-killer Jonah Hex?
Once the last gift was given and the ladies began to disperse, Jeanne said to Mei Ling, "Looks like you have everything you could possibly need and then some."
"Yes. Perhaps we should save some for the second baby." Mei Ling rubbed a hand over her belly. "Jonah seems to think one will be enough, but I wouldn't mind two or three."
"Forgive my bluntness, but do you really think that someone like Jonah Hex is a suitable father for even
one
child? I mean, the stories people tell about him...the cold-bloodedness..."
"Those are stories, Miss Walker, not truth. At least, not the entire truth." Mei Ling looked at her and said, "Did you travel here to find stories, or to find truth?"
Her mind went back to her thoughts upon the train, and she answered, "I came here to find the truth."
In more ways than one
, she silently added.
"I'm glad. So many people know only one side of Jonah, the side that he showed the world for a very long time...but that is not who he truly is. That is not who gave me this child."
Jeanne raised her eyebrows. "Are you saying Hex isn't the father of your..."
"Not the one you know," Mei Ling said. "Not the one most people know. The Jonah Hex I know -- the one who blessed me with a child -- is one of the kindest, most passionate people I have ever met. In these stories people tell, they talk of Jonah being a hateful man, but they do not realize that hate was all the world ever gave to him, so that was what he gave the world in return. All this time, there has been a great fountain of love buried inside of him, just waiting for the right person to bestow it upon."
"And I take it that you were just the right person?"
A slight blush came to Mei Ling's cheeks. "It seems that way. I showed him that he didn't have to be afraid to reveal his true self, and in turn, he gave up the only life he knew just to please me. Wouldn't you call that love?"
"I don't know...I suppose."
"You've never been in love, have you, Miss Walker?"
"I...I think I was...I am..." Again, her mind went back to the train, and her thoughts about the two men in her life. Was it love, or lust, or something else? Something deeper that had a name that couldn't be spoken, only felt.
"When you're in love," Mei Ling continued, "you will do things for that person that you would never do for anyone else, not even family. Jonah loves me, and has shown me that in so many ways. It makes me sad that so many people cannot see him the way I do, but it also makes me happy, for it means his love for me is that much more precious."
"It sounds beautiful, what the two of you have."
"I like to think so. Perhaps someday, you'll find someone like that for yourself."
"Perhaps." Jeanne changed the subject then, trying to move the conversation towards more pedestrian matters. But in the back of her mind, thoughts of love lingered, and with them, a name. A name unspoken, but deeply felt...
* * * * * *
8:00 pm (the foothills outside of Mesa City):
The steam was thick, and heat intense. The two men sat on opposite sides of the sauna now, facing each other in their small clothes, and James handed what looked like a small button to Johnny. The blond-haired man watched his Indian companion carefully and mimicked his actions. Together, the two men chewed on the soft round material, and remained silent.
Sweat beaded up and then rolled down Johnny's temples, and dampened his forehead. He could feel his hair go wet and flatten against his head; he felt his skin flush hot and he almost chuckled when his brain thought about how in the heat, his friend looked like a true 'redskin' now. He bit his lip, and he could hear his lip cry "Ouch!" He jumped at the noise, as his mouth chastised him for the injury, and he blinked hard in response. When he looked up, he saw that James was nowhere in sight. Nor was the small adobe hut. Instead, he stood in a simple loincloth, pale and cold under an intensely black night sky. Very few stars deigned to look down on him now, and for some reason, that made him feel even lonelier, and he shivered. He saw the mountain James had told him about, and started to walk toward it. It was hours later when his legs became like lead and he gasped for breath that he finally realized that the mountain deliberately backpedaled from him.
"I'm with James, you bastard!" Johnny cried out at the mountain, only to have a peal of thunder roll across the sky and shake the ground. "I don't know where he is! Stop moving!"
"Are you sure it's the one movin', son?" Johnny turned around to see his father standing there and shaking his head. "You sure you're really headin' toward it? Or maybe, maybe you ain't so far gone that you know this is a sin, wicked and awful."
Johnny blinked harder now and shook his head as well, a mirror to his father's movements. "You don't even know--"
"About the lies, son? About how you lied to yer momma about not fightin', and you lied to me so that you could keep lyin' to her? Is that what I don't even know, son?"
Johnny turned to run again now, the voice of his father trailed after him, and he glanced over his shoulder to see the old man just standing there. He turned to look in front of him again in time to nearly bump into two pale corpses with large holes in their bodies, like raw, ragged meat.
"Johnny," Benjamin Sanderson said, "you let us down."
"Failed us, Johnny," Joseph Sanderson said, the first time in years the brothers agreed. "Let us die, and now you let us rot without justice."
"I tried...I'm trying..." Johnny stumbled back from them now and wiped at his forehead, soaked with sweat. "I'm not going to rest until I bring Breyer to justice. I'm doing everything in my power."
"Really? Everything in your power, John?" He blanched at the new voice and refused to look at his mother, and fought off tears. "You say those words as easily as you promised me, and now..."
"No! Ma, you don't understand! I have to do this, James was right, we didn't have any other way to--"
"To stick a knife in my back, son?" his father asked now, as Will Tane stepped up to put a hand on his shoulder. John shrugged back from it, and spun away, but refused to look in the direction of his mother's voice. "All those teachin's I tried to pass on, all the proper ways things are meant to be done, and here you are, chewin' on Injun devil weed and traipsin' around after beasts?"
"Stop! I have to do this! Don't you understand, Pa?"
"We want justice!" the Sanderson brothers cried out as one in a horrid wail of sheer torment. "We were made to kill each other, and you swore!"
"I did, I do, I will, I...I..."
"John, you said you'd do everything in your power," his mother said again. She brushed a wet lock from his forehead and caught his gaze at last. "So do that. Do everything in your power. Don't be afraid of it, John. You have a good heart, and you just have to listen to it."
Johnny blinked back tears as he hugged her tight, only to have her vanish in a gust of wind. They all vanished in a gust of wind, and he was alone in a desert, sand kicked up and scouring him as he felt that sharp tug in his heart.
Once more, the wind whipped around him, and he heard something on it.
"Johnny." The wind spoke his name and he spun around in response.
It didn't speak my name, it carried my name,
he slowly realized and followed it now. He marched deliberately into the wind, against the sand, and caught the word again.
"John." It was a sigh mixed in a hurricane, and his heart leapt.
"Jeanne."
* * * * * *
8:21 pm (Cheyenne):
Yo're actin' a fool, yuh know thet?
Jonah thought as he sat on a bench in front of the livery, his coat collar turned up against the cold and his gaze turned towards the ground.
Here yuh are, a grown man of thirty-three, an' yo're sneakin' about like a little boy who's afraid of gettin' a whuppin'. Yuh cain't avoid Emmylou forever, yuh know.
"Ah kin sure as Hell try," he muttered aloud, then glanced around to make sure nobody was nearby to hear him talking to himself. Jonah had passed a few people while he'd been wandering about town, and each time he'd turned his head away and quickened his pace in the hopes that they'd leave him be. He'd even scrapped his notion of going to the Roundyard: the possibility of being grilled by one of the boys was too strong, and Hex didn't feel like he could take such a thing at the moment. So instead he sat alone, out in the cold on New Year's Eve, while everyone else was basking in warmth and light and laughter.
Nothin' new there
, he thought, rubbing his gloved hands together to keep the circulation going.
Yuh've spent most of yer life alone in one way or another...whut dif'rence is one more night gonna make?
The difference was that it wasn't supposed to be like that for him anymore. He had a wife now, he had a home, but try as he might, he couldn't enjoy it. Things kept coming up that had the potential to take all that away from him...like this incident with Emmylou Hartley. As much as he hated the notion, if he wanted to have anything resembling a peaceful life here in Cheyenne, he was going to have to talk with that girl about what happened between them, and make it perfectly clear that nothing of the sort could ever happen again. "Ain't as much of a chore as yer mind keep buildin' it up tuh be," he told himself as he got up from the bench. "Just hitch up yer belt, then march right on up tuh the girl an' say, 'Emmy...'"
"Yes?"
Jonah whirled around to see Emmylou stepping out of an alleyway near the livery. She had on a simple red dress with a delicately-embroidered shawl draped over her shoulders, and her blonde hair was pinned up in a fashionable style. Jonah gaped at her for a moment, then said the first thing that came to mind: "Weren't yuh wearin' a blue dress earlier?"
"No...would you rather that I was?"
He shook his head. "Thet's not what Ah...never mind. Where the Hell did yuh come from, anyhow? Ah ain't an easy man tuh sneak up on."
"When I was with the Crow, I...learned to be quiet." She slowly approached him, saying, "I saw you pass by the hotel, and I decided to follow you, but you looked so upset..." She gazed up at him with longing in her eyes. "I've missed you, Jonah."
"Listen, sugar, Ah cain't..." His own eyes darted up and down the street nervously, then he pointed towards the livery door. "Kin we pop inside here fer a bit? Ah don't want nobody..."
"You're worried about your wife finding out about us, aren't you?"
"Of course Ah'm worried! She..." He realized he was shouting, and said in a more sedate voice, "Just get inside, okay?" She did as he asked, with Jonah leaving the door open just a crack so as to let in some moonlight. Some of the horses inside snorted and tossed their heads at the sight of the newcomers, echoing the skittishness that Jonah himself felt.
"Do you like my dress?" Emmy turned about to give him a full view. "I picked it out especially for you. And my hair..."
"Ah like the pigtails on yuh better," he said without thinking. When he realized what had come out of his mouth, he quickly added, "But what Ah like don't matter. Yuh ain't muh girl, Emmylou. Yuh
cain't
be."
"Why not?"
"Whut the Hell do yuh mean, 'Why not'? 'Cause Ah'm
married
! Ah've got a
wife
! Yuh done said so yerself!" He stopped, rubbing a hand over his face as he tried to regain his composure. "Ah made a vow in front of the Lord tuh be faithful tuh Mei Ling, an' Ah meant every word of it. What happened between us up in the mountains...Ah wasn't in any sort of shape tuh be thinkin' clearly, an' Ah made a real big mistake. Yuh understand thet, Emmy?
It was a mistake
. Nothin' more."
"I don't believe you."
"Ah don't care if'n yuh believe me or not, just so long as yuh know it ain't gonna happen again." Jonah turned away from her, intent on walking out of the livery and all the way back to the party with a finally-clear conscience, but as he laid a hand upon the door, Emmy said, "You deserve more than one, you know."
Without looking at her, Jonah asked, "More'n one whut?"
"More than one wife." The statement was enough to make Jonah turn back around. When he did, he saw Emmy standing straight with her chin tilted slightly upward, instead of her usual timid posture. "I've heard a lot of stories about you since I came to town," she said. "People say that you're a great hunter of men, a killer of killers. They look upon you with both fear and respect. You lived amongst Indians just like I did, so you know that a brave warrior like yourself should be rewarded with many wives."
"We are
not
Indians, Emmy, we're white folks, an' unless yo're livin' in Utah, white folks don't do thet sort of thing."
"I don't see why not. When I lived with the Crow, I was proud to be the fourth wife of Eagle Who Stands. He'd counted coup upon many enemies, and he'd..."
"Was he the one who beat the Hell outta yuh a couple months back?" Jonah interrupted.
Emmy flinched at the words, but kept talking. "He could be kind, sometimes. He was kind to his other wives, especially the ones that bore his children." A note of sadness came to her voice as she said, "I know that Mei Ling will always be first with you, because of that, but I would be honored to be your second. I'd do anything you wished, and I know that you'd never lay a hand on me, you'd treat me with nothing but love and kindness, because that's how you've treated me since the first day we met."
There was a long pause, then Jonah replied, "Woman, Ah'm beginnin' tuh think thet yo're touched in the head." He turned towards the door again. "Damn shame, but considerin' whut yuh've been through, Ah ain't surprised."
"If you don't love me, then kiss me!" Emmy blurted out.
"Like Ah said..."
"If you don't love me, then you won't feel anything when you give me a kiss," she continued. "And if you don't feel anything, then I won't bother you anymore. I mean it."
Jonah sighed as he turned around once more. "If'n Ah do this, yuh swear thet yuh'll quit with this 'second wife' nonsense?" She nodded, and Jonah approached her, saying, "Fine...one kiss, an' then we're done."
Emmy closed her eyes as Jonah put a hand under her chin and turned her face up towards his, taking a moment to regard her serene features. Once again, was struck by her resemblance to Cassie.
But she ain't Cassie
, he told himself.
Cassie's long dead, an' yo're married, an' some stinkin' fairy-tale kiss ain't gonna change thet.
He kept repeating that to himself as he leaned towards her, his open eyes fixed upon her closed ones.
She ain't Cassie...she ain't...
His pursed his lips, intent on giving her a chaste kiss and nothing more, but when he made contact, he went against his better judgment and lingered. Then his eyes slipped closed, and he opened his lips a little wider, pulling her body closer to his as the emotions he'd been trying to repress for the past two months came flooding back, overwhelming all common sense.
"You love me," Emmy gasped, "you
do
love me..."
"Hush," Jonah whispered. He didn't want to think at that moment, he only wanted to feel. There was no world outside of this. No worries, no concerns. No Mei Ling.
"Hush...just hush..."
* * * * * *
8:47 pm (Richmond, Virginia):
His son was dead.
Even after all these years, that simple fact had enough power behind it to rise up and strike Quentin Turnbull square in the heart. It happened most often during the holidays, and for good reason: the last time he'd seen Jeb alive had been during Christmas, when he and Jonah Hex (God damn his soul) were on leave from the front. How wonderful Jeb had looked in his uniform on that visit, tall and proud, full of youthful vigor...that was how Turnbull wished to remember his son, not as a cold, pallid figure laying in a pine box. But that was all Jeb Turnbull had been for the past eight years: a corpse in the ground, a dead legacy, unable to produce heirs or to carry on as master of the plantation. Considering this fact, could Turnbull be blamed for his bouts of melancholy during this time of year? Certainly not.
He picked up the decanter off the small table beside his chair and freshened his brandy. He'd already drank far more that night than what most folks would consider "sociable", but seeing as how he was sitting alone in his parlor and not at some polite gathering, he cared not what anyone might think about his current imbibing. So he sipped his brandy with only the soft glow of the fireplace for company and continued to ruminate on what he'd lost. After a time, the parlor door creaked open, and Solomon said in a hushed tone, "Mastuh Turnbull?"
"What? What is it?" he replied, the liquor giving his voice a hard edge.
"Beggin' your pardon, suh, but Mistuh Temple's come by tuh speak with you."
"Tell him it's late, and that I am in no mood to make revelry."
A muffled voice could be heard beyond the half-open parlor door. Solomon nodded to the unseen speaker, then said to Turnbull, "He says he received a letter from Mistuh Cochrane, an' that he would've come by at a decent hour to deliver it, but..."
"Cochrane?" He sat up straight in his chair. "Let him in, Solomon."
The black manservant did as ordered, swinging the door fully open to admit the gentleman waiting in the hall. At first glance, Rufus Temple was an unassuming man with his average build, brown hair and moustache, but what struck most people upon a second glance was the coat sleeve pinned up to his shoulder, as his right arm had been removed by a Union sawbones just before he'd been shipped off to a prisoner of war camp. Being one of the few Confederate survivors of the infamous Fort Charlotte Massacre, Temple sometimes counted himself lucky that his arm was the only thing he lost that night. Other times, he wished he still had both hands should the opportunity to choke the life out of that traitor Jonah Hex ever arise.
"Forgive my abruptness earlier," Turnbull said as Temple took a seat in the chair across from him, removing his hat as he did so. "I do believe the spirits have made me forget my manners." Turnbull raised his glass for emphasis.
"You're forgiven, sir...though I reckon I could forgive you better if I had a draught myself. Awful cold out there tonight."
"Of course." He gestured to Solomon, who poured a fresh glass in silence. "Now, you said the esteemed Mr. Cochrane has finally sent word regarding our quarry?"
Temple nodded, then set his hat upon his knee so as to free up his remaining hand and pulled an envelope out of his coat. "My readin' ain't never been so good, but once I made out enough words to know who it was from, I came here as fast as I could."
"You did just fine, Temple...and let me remind you again how much I've appreciated your loyalty to our cause over these long years." He took the envelope and settled back in his chair, angling the letter slightly towards the fireplace to better catch the light. Silence lapsed over the room for a good five minutes as Turnbull perused the letter once, then again, then a third time, the look of astonishment growing upon his face with every pass. Finally, still holding the letter, he let his hands dip down to his lap, and his gaze lingered on the empty air before him. "A wife and child," he said to no one in particular. "I never would have imagined..."
"Hex has a kid?" Temple was so surprised by the news that he spilled a bit of his brandy. "You mean somebody actually bedded down with that buzzard?"
"Apparently so...and she is a Celestial as well. The man has no sense of the proper order of things." Turnbull shook his head. "And to think, I once considered him family."
"So now what? Is he draggin' Hex back here so we can kill 'im, or he is sendin' a corpse instead?"
"Unlike you, Mr. Cochrane has put a bit more thought into the situation." Turnbull held up the letter, saying, "He sent along a few options for me to consider, along with coded responses I can send via telegram without arousing the suspicions of any local authorities." He clutched his eagle-headed cane as he stood up and walked over to a small writing desk on the other side of the room, then proceeded to jot something down on a sheet of paper. "First thing in the morning, I want you to go to the telegraph office and send this message along to the location Cochrane specified. Make sure it's worded
exactly
as I have it written down."
Temple stared at the paper Turnbull handed him, trying to puzzle out the meaning of the inky scratches before him. "Ex...Ezod...doos..."
"Exodus, Chapter 11, Verses 5 and 6." He said it slowly, as if to a child. "I do advise that, the next time you find a Bible within your reach, you ask someone to read you the passage." A cold smile came to Turnbull's lips. "I'm sure you'll find it very appropriate."
* * * * * *
9:19 pm (Cheyenne):
Mei Ling? Are you okay?" A look of concern crossed Jeanne's face as the other woman suddenly squeezed her eyes shut and pressed a hand to her swollen belly. "Is it the baby?"
"I'm fine. The baby..." She paused, wincing, then said, "The baby's been kicking a lot lately. I think that's all it...
owwww!
" Mei Ling began to double over, and Jeanne reached out to support her. "Hasn't felt...like this..."
"Do you have a doctor in town? Do you know if he's here tonight?"
Her lips were pressed tight against the pain, so Mei Ling only nodded. Then she looked down at the floor and let out a whimper -- Jeanne followed her gaze to see a pinkish-red puddle forming beneath Mei Ling's chair. As calmly as she could, Jeanne said, "It's going to be okay. Just sit here and don't move. I'll find the doctor for you."
Mei Ling nodded, then cried out again. Some of the townsfolk chatting nearby were beginning to turn around, and a woman came over and sat in Jeanne's chair after she vacated it.
A murmur started to move through the town hall as Jeanne went from one person to the next, asking where the doctor might be. Luckily, they pointed her rather quickly towards Doc Pedersen, who didn't hesitate to follow the photographer back to where she'd left Mei Ling. When they got there, they found a crowd gathered around Mei Ling as she lay on her back upon the floor, a balled-up coat beneath her head and Miss Crawford holding her hand for comfort. The doctor knelt next to her, saying, "Don't worry, Mrs. Hex, everything's going to be fine."
Mei Ling shook her head at the statement, her face already slick with sweat. "It hurts...not like you said it would, either. It's...it's all..." The rest of the sentence was cut off by a shriek of pain.
"I don't think the baby wants to wait any longer." Pedersen looked up at the crowd and said, "Somebody find a blanket so we can carry her to my office."
"No," Mei Ling gasped, "find...find Jonah. Somebody...f-f-fuh..."
Jeanne knelt down and said to her, "I'll take care of that, don't worry. I've been trying to find him all day anyhow."
Mei Ling tried to smile. "Thank you. You've been...so nice...to...
ooowwwh
..." Her face twisted as another wave of pain ripped through her body. A pair of men arrived with a blanket just then, and they carefully lifted her onto it and began to follow the doctor to his office. Everyone else present watched them go, and the moment they passed out of the hall, the murmur grew larger as they all speculated as to whether or not both mother and child would pull through.
Jeanne wondered the same in silence: though she had no experience in childbirth, she figured that the presence of blood when the mother's water broke couldn't be a good sign.
There's no point in you dwelling on that right now
, Jeanne told herself.
She's in the doctor's hands now, and you've got a mission: find Jonah Hex and get him to Mei Ling's side before something really does go wrong.
She started for the door herself, and as she neared it, she spotted some potential help. "You there! You're from that Yardarm place, aren't you?"
"Roundyard," Larkin corrected. "The Roundyard Saloon, best watering hole in all of Cheyenne. Nice to see you again, ma'am."
Findley, standing next to him, elbowed Larkin aside. "Are you that photographer lady? Boy, am I sorry I missed you earlier." He flashed a grin and smoothed back his hair.
Jeanne put a no-nonsense look on her face and replied, "Rein it in, mister. I'm looking for Jonah Hex."
"Forget it, he's hitched already. I, on the other hand..."
Larkin gave Findley a whack on the back of the head. "She's looking to
interview
him, you numbskull."
"That's been put on hold for the moment," Jeanne said. "I need to get him over to the doctor's office." The two men gave her a puzzled look, and she said, "To see Mei Ling...she's having the baby?" More puzzlement, and Jeanne said in exasperation, "Haven't you noticed all the commotion over the past ten minutes?"
In answer, Findley and Larkin merely lifted their half-full glasses of liquor and shrugged.
"Lovely," she muttered. "Do you think maybe you two could pull your heads out of your glasses for a while and help me track down Hex?"
"Oh, that's easy. He told me a couple of hours ago that he was going over to the Roundyard," Larkin said.
"Who's going to the Roundyard?" Mike walked over to their little group, a glass of his own in hand.
"Hex was, around...I think it'd just turned seven," Larkin replied. "Didn't you see him?"
Mike shook his head. "I left there at half-past eight. Jonah never showed up. I remember the constable coming by looking for him, though."
"Where else could Hex be?" Jeanne asked. "Any other bars he likes to frequent?" The boys couldn't think of any place, so Jeanne said, "Okay, I need you to spread out and start asking anyone if they've seen Hex since seven o'clock. We'll start here at the town hall, then make our way up and down every street if we have to until we find him. First one to nab him has to drag him to the doctor's office. Agreed?"
"Yes, ma'am!" Mike threw a mock salute, then he and the others headed off into the crowd, while Jeanne continued on to the door leading outside.
When this is over
, she thought,
I'm going to hogtie this man to a chair until I get an interview out of him
.
* * * * * *
9:55 pm (foothills of Mesa City):
The wind continued to buffet Johnny, but each step brought him closer to the voice, and each step seemed to fight against less furious wind, until at last it died away and he could see the clear dark night and brilliant panorama of stars overhead, winking once more on him. Before him stood the foothills and the mountain, and he stood on a road that took him straight to it. He glanced around for the voice, and saw nothing however.
"How can I be imagining things in a crazy dream vision?" he muttered bitterly to himself as he started along the road. He paused after a few steps and blinked hard once more. "Guilt...guilt over everything secret and wrong..."
He looked back at the way he came, the cracked and broken, storm-swept desert he'd pushed through. "I felt guilty. Ma understands though, she understands why I'm here." He smiled at the thought and ran his hand through his hair. "Jeannie would too, wouldn't she?"
He heard a rattling noise in the distance and glanced to his right, off the path, and saw a snake the size of his horse slowly winding its way toward him. It had mean red eyes and licked its lips and made him shudder. "Can't stand still, stop thinking. Too much thinking, that's your problem, teacher. You can't think every little thing, sometimes you just have to go on gut and heart and just--"
The rattle was closer, and a hiss drew his gaze back to the snake as it approached him quicker now, hungrily and angrily bunching up to strike.
"Move!" he shouted and started back down the trail at a run.
The path wound like the rattler he'd just escaped, and though it seemed like a straight run to the mountain, instead it continued to spiral around his goal. "No! No, we're not playing that game!" he growled angrily. "I want to go straight! It's my dream, and what I say goes."
It was then he reached a fork in the road, so close to that first rise up to the mountain. The other path stretched off toward the horizon, far from the mountain, and he scoffed at it at first. Then there was a peal of thunder that rattled the landscape and made his heart skip a beat. It happened again a second later, and Johnny looked up in surprise. "Not thunder...bells. Bells? What are bells doing?" A third peal rolled across the strange reality, and again he heard that special, sweet word.
"Johnny." He smiled and he realized where the path led to, and now he found the choice so hard. A fourth peal sounded out now, and Johnny understood more.
"Midnight. A new year..." He remembered how he heard that who you spend the new year with is who you spent the future with.
"Jeanne!" he called out and dashed down the fork that pulled him from the mountain, and trusted this once to his heart.